We encourage your participation.
To comment on State Game Commission items visit our Proposals Under Consideration page.
For opportunities to comment on Department plans visit the Public Comment page.
Publications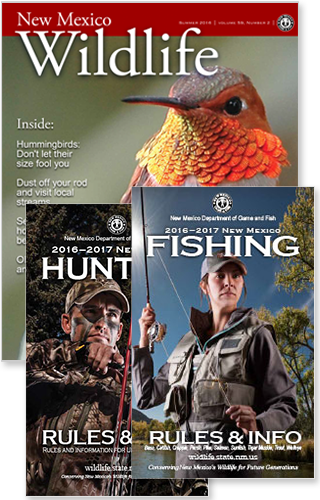 View our publications page for the latest available in print and PDFs including 2016-17 Fishing Rules and Information, the 2016-17 Upland & Big Game Hunting Rules and Information booklet and New Mexico Wildlife magazine.
Click Here
 for department-wide news, or view
News
 categories from the main menu.
License Sale Alerts
Online application for Sandhill crane and pheasant draw hunts now available. The deadline to apply is 5:00 p.m. August 24. Successful applicants must purchase the applicable license(s). Apply Now.
Buy or print a license, get free permits, apply for draw hunts or check results with Customer Login.