New Mexico Department of Game and Fish
Public contact, Information Center: (888) 248-6866
Media contact: Zen Mocarski, (505) 476-8013
zenon.mocarski@state.nm.us
FOR IMMEDIATE RELEASE, MARCH 3, 2017:
Donating a portion of tax refund supports wildlife conservation

SANTA FE – Supporting wildlife conservation in New Mexico is simple: Donate to the New Mexico Department of Game and Fish Share with Wildlife program.
It's as simple as filling out line 2 on PIT-D, New Mexico Voluntary Contributions, on your state tax return, donating any portion of your refund.
In the past 10 years, Share with Wildlife has provided over $1.5 million for more than 100 projects intended to further the conservation and management of primarily non-game species that do not receive funding from other sources. The program has supported wildlife research, habitat enhancement, education and rehabilitation projects since 1981.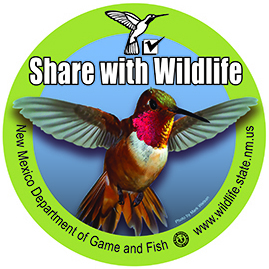 Share with Wildlife depends on donations from the public, which are matched with federal dollars to maximize the amount of money supporting New Mexico's wildlife. All the money donated goes to funding program projects; none of it is used for program administration.
Those looking for other ways to support conservation can contribute through the department's online licensing system, by purchasing a program vehicle license plate, or by printing off and mailing in a donation form available on the department Share with Wildlife website, http://www.wildlife.state.nm.us/conservation/share-with-wildlife/.
The Share with Wildlife license plates can be obtained by filling out an application for a wildlife artwork plate available on the New Mexico Motor Vehicle Division's website. It can also be purchased in person at an MVD office, but call ahead to make sure the plate is in stock.
For additional information, email Virginia Seamster at Virginia.seamster@state.nm.us.
###