When:
May 18, 2019 – May 19, 2019
all-day
2019-05-18T00:00:00-06:00
2019-05-20T00:00:00-06:00
Where:
Glade Run Recreation Area
County Rd. 1980
Farmington
NM 87402

Often the public asks, "Where does all the money from OHV registration fees go? How does it benefit me?"
You are invited to come see your OHV dollars at work and join the New Mexico Department of Game and Fish and the Bureau of Land Management for the Brown Springs Off-Highway Vehicle Recreation Area Grand Opening, May 18-20, 2019 at the Glade Run Recreation Area located off County Rd. 1980, Farmington, N.M. 87402.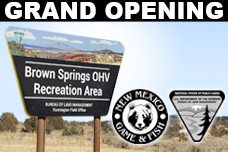 We all know that New Mexico has many OHV trails and areas to ride, but what the state didn't have until now, is an OHV Recreation Area like Brown Springs.
In recent years, the Department and the Bureau of Land Management have worked with the City of Farmington and San Juan County to create a one-of-a-kind OHV recreation area — not only an area just to ride, but an area where OHV enthusiasts can also enjoy open camping with facilities, have OHV information available, participate in OHV safety training, all while enjoying ample space for OHV staging, parking, riding and more.
From 12 p.m. to 5 p.m. Saturday, May 18 and all-day Sunday, May 19, dealers will be on-hand to demonstrate the latest OHVs and gear. The New Mexico Department of Game and Fish will join OHV recreationalists on the trails to discuss the project and share information on OHV training and safety. (OHVs will not be provided to ride the trails. Please bring your own.)
On Monday, May 20, dignitaries will speak at an official grand opening ceremony from 11 a.m. to 2 p.m.
For information visit online: www.wildlife.state.nm.us or call: (505) 222-4728.
OHV Brown Springs Flier