See also main Pronghorn Private Lands page.
Information for Landowners
Private-land pronghorn licenses are available over-the-counter in unlimited number. Landowner's may allow as many hunters as they wish to hunt on their private deeded acreage. In addition to a pronghorn license, hunters must be in possession of written permission from the landowner. Over-the-counter  private-land licenses are valid on the landowner's private deeded acreage only and are NOT valid on public land.
Hunters must choose from the public hunt codes available for that GMU as listed in the Rules and Information booklet. Hunt dates, weapon type and bag limit are determined by the hunt code selected.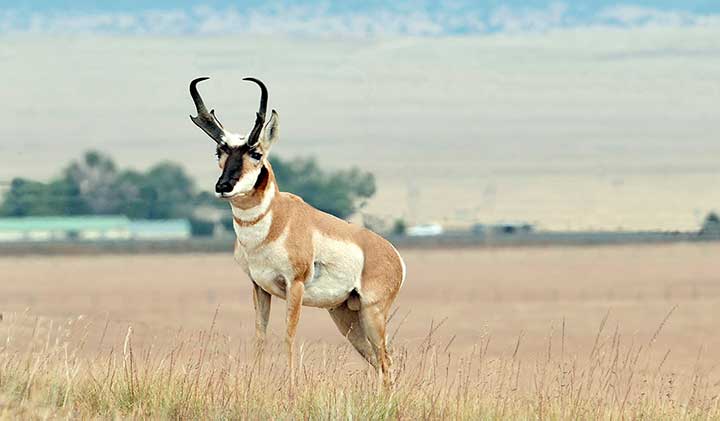 Pronghorn Conservation Recognition Program (PCRP)
In accordance with the pronghorn rule, landowners who are conducting and maintaining substantial habitat improvements and/or land management practices may apply for the PCRP. Landowners whose applications are approved and management plans accepted may be granted alternative season dates as approved by the Department.
Some of the habitat work and improvements that will be considered for the PCRP are:
• Water Developments providing water across several seasons or locations on a property,
• Fence Modifications which make both exterior and interior fences more wildlife friendly,
• Removal of invasive or undesirable vegetation to reestablish historic open range type habitats,
• Forage improvements and grazing management that restore quality forage for wildlife,
• Riparian area development and protection to aid in water quality and retention, and
• Evaluating impacts of agricultural crop production in relation to pronghorn.
The pronghorn rule includes a Ranch-Wide Agreement option which allows a landowner to enroll the ranch's private deeded and public leased acres as one contiguous ranch. Landowners will negotiate a set number of pronghorn authorizations for the ranch with the Department. Those authorizations will allow a hunter to purchase a pronghorn license valid on the entire ranch, including both the private deeded and associate pubic leased property. Properties with Ranch-wide agreements also will be open to public hunters who have drawn a public pronghorn license for that GMU. All pronghorn hunts on a Ranch-wide property will correspond with the public draw hunts listed in the Rules and Information Booklet. Over-the-counter private land pronghorn licenses are not valid on a Ranch-wide ranch.
Landowners with Ranch-wide agreements will be listed on the Department website. The Ranch-wide landowner list and maps of each participating property will be listed before the August hunting seasons.
Landowners also may request a unitization agreement which involves a negotiation between the landowner, the Department and the affected land management agencies to designate portions of private land as public and portions of public land as private for the purposes of hunting.
Landowners who wish to participate in one of the special private land programs must contact the state pronghorn biologist or regional wildlife biologist (contact information below).
NW Area Office
Bill Taylor – Regional Biologist
NM Dept of Game and Fish
7816 Alamo Rd NW
Albuquerque NM 87120
(505) 222-4700

NE Area Office
Michael Herman – Private Land Specialist
NM Dept of Game and Fish
215 York Canyon Road
Raton, NM 87740
(575) 445-2311

SW Area Office
Kevin Rodden – Regional Biologist
NM Dept of Game and Fish
2715 Northrise Dr
Las Cruces NM 88011
(575) 532-2100

SE Area Office
Austin Teague – Regional Biologist
NM Dept of Game and Fish
1912 W. Second St
Roswell NM 88201
(575) 624-6135