PLEASE DON'T PICK UP DEER FAWNS OR ELK CALVES
TINGLEY BEACH SEES NEW BAG AND POSSESSION LIMIT CHANGES FOR TROUT
REWARD OFFERED FOR INFORMATION ON DEER POACHING NEAR FT. SUMNER

PLEASE DON'T PICK UP DEER FAWNS OR ELK CALVES
The New Mexico Department of Game and Fish receives numerous calls each year from concerned individuals who find what they think are orphaned or abandoned deer fawns and elk calves. Some people pick up the animals and take them to local veterinarians, zoos or their local Game Department offices. While there is no intention of harming the young animals, people need to realize that picking up these babies greatly decreases their chances of survival.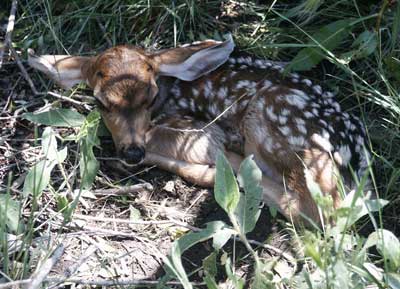 Deer and elk leave their young alone while they move off to forage for food and water. The young normally are left in areas that provide good cover and relative safety. The fawn or calf may be left alone for several hours depending on cover availability, distance to food and water, and other factors, including human presence. The mothers will return to their young when they feel that it is safe to do so.
It's not uncommon for people to find fawns or calves lying hidden in the grass or brush, especially this time of year. Keep in mind that mom is probably somewhere in area and will return to take care of the fawn or calf.
If you find a young fawn or calf, leave it alone, don't touch it, and by all means do not pick it up. Leave the general area and eventually mom will return.
In addition to picking these young animals up, some people feed the babies cow's milk, which can lead to serious complications when and if the young animals end up at a rehabilitation facility or zoo. Regular cow's milk doesn't have the necessary nutrients needed to keep fawns or elk calves healthy.
The best thing you can do if you find a fawn or calf that you think is orphaned or abandoned is to leave it alone and contact your local conservation officer or Department office. Even if you think the mother is dead, let a conservation officer take care of the animal and make the decision on what action to take. Furthermore, it is unlawful to pick up game animals or any protected species, of any age, without a proper permit or documentation from the Department of Game and Fish.
Think about it if you find a baby deer fawn or elk calf. Your actions may not only affect you, but also the animal you think you are rescuing. These same guidelines should be followed when finding young of any wildlife species.
TINGLEY BEACH SEES NEW BAG AND POSSESSION LIMIT CHANGES FOR TROUT
ALBUQUERQUE -- The number of anglers using the lakes at Albuquerque's Conservancy Park (Tingley Beach) has increased considerably since the park's reconstruction. To more equitably distribute fish among anglers, the State Game Commission, with input from City of Albuquerque, has changed the bag limit from 5 trout to 4 trout and the possession limit from 10 trout to 4 trout for the Children's and Central Ponds.
The new regulations went into effect June 15, 2009.
"In an effort to more equitably distribute the limited number of fish that are stocked into the lakes, we feel that a reduction in the bag and possession limit is appropriate," said Rebecca Houtman, the city's curator at Tingley Beach. "However, the southernmost pond will remain catch-and-release only."
Tingley Beach is one of the most popular fishing spots in the Albuquerque area. Trout are stocked in the ponds during the winter months and catfish during the summer months.
REWARD OFFERED FOR INFORMATION ON DEER POACHING NEAR FT. SUMNER
FORT SUMNER -- The New Mexico Department of Game and Fish is offering a reward for information about the poaching of a deer southwest of Fort Sumner.
The carcass of a mule deer buck was found dumped off the N.M. 20 Bridge over Yeso Creek. The head, backstraps and quarters had been removed.
Officers believe the buck was killed and dumped off the bridge sometime over the weekend of June 6-7.
Anyone with information about this poaching incident is urged to call Operation Game Thief at 1-800-432-GAME (4263). Callers need not identify themselves or testify in court. If the information leads to the arrest or filing of charges, the caller will be eligible for a $500 reward.
###