LESSER PRAIRIE CHICKEN FESTIVAL POSTER CONTEST WINNERS CHOSEN
UNSAFE ICE: EAGLE NEST LAKE CLOSED TO ICE FISHING
BEAR AWARENESS MEETING MARCH 25 IN SANDIA PARK
2 BULL ELK POACHED, LEFT TO ROT NEAR REGINA
LESSER PRAIRIE CHICKEN FESTIVAL POSTER CONTEST WINNERS CHOSEN
Wildlife artist Burdette "Burt" Calkins' watercolor painting of booming, fighting and flying prairie chickens was selected as the winner of the 2011 High Plains Lesser Prairie Chicken Festival poster contest.
Calkins' remarkably detailed and accurate depiction of lesser prairie chickens displaying on a mating site, or lek, was among about 25 entries in the adult category. He will receive $300 and his painting will be reproduced as the annual poster for the festival, which will be April 15-17 this year in Milnesand.
Camber Arnhart, 14, of Albuquerque, won the category for grades 7-12 with her digital painting of a booming prairie
chicken. Jack Luttrell, 11, of Albuquerque, won the K-6 category. Both youth winners will receive $50 prizes.
Sponsored by the New Mexico Department of Game and Fish, The Nature Conservancy, the Milnesand community and other partners, the High Plains Prairie Chicken Festival celebrates the lesser prairie chicken and the Llano Estacado (staked plains) of eastern New Mexico. Festival participants see prairie chickens perform their colorful early morning courtship dances, learn about the cultural and natural history of the southern Great Plains, take daily
birding tours, and enjoy good food and western hospitality.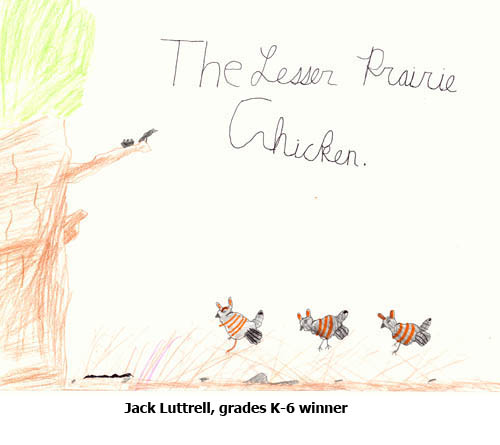 This year's 10th annual festival is sold out. The festival is limited to 100 participants because of the sensitivity of the lesser prairie chickens during breeding season. Those interested in attending next year's festival can receive early notification by calling Tish McDaniel, (575) 762-6997 or e-mailing chickenfestival@yahoo.com.
UNSAFE ICE: EAGLE NEST LAKE CLOSED TO ICE FISHING

EAGLE NEST -- Eagle Nest Lake has been closed to ice fishing because of recent warm weather and winds that caused rapidly deteriorating ice conditions, the Department of Game and Fish and New Mexico State Parks announced Monday.

Although the lake is still partially covered, the ice is getting soft and soon will begin breaking up. Eagle Nest Lake State Park remains open and fishing will be allowed from the shore in areas with open water. Anglers are advised to contact the state park for current fishing and ice conditions at (575) 377-1594.
For information about fishing in northeastern New Mexico, please contact the Department of Game and Fish in Raton at (505) 445-2311.
(back to top)
BEAR AWARENESS MEETING MARCH 25 IN SANDIA PARK
SANDIA PARK -- The Department of Game and Fish will host a bear awareness meeting from 6 to 9 p.m. Friday, March 25, at the Vista Grande Community Center, 15 La Madera Road, in Sandia Park.
"We are trying to get an early start on the bear season this year," said Brandon Griffith, depredation specialist for the Northwest Area. "Hopefully by informing and educating the public and homeowners on how to coexist with bears, we can eliminate some of the issues and problems that we have faced in past years."
The meeting is open to area residents and others interested in learning more about bears. Meeting topics include relocating bears, public obligations under law, and how neighborhood associations and homeowners can help preserve the bear population.
For more information about the meeting, please call (505) 222-4707.
2 BULL ELK POACHED, LEFT TO ROT NEAR REGINA
CUBA – The Department of Game and Fish is looking for information about two bull elk that were shot and most of the meat left to rot near Regina at about 4:30 a.m. Feb. 6.
A witness reported seeing a late-model Chevy pickup of unknown color leaving the area of Alber Valley Road, just off N.M. 96, after shots were heard.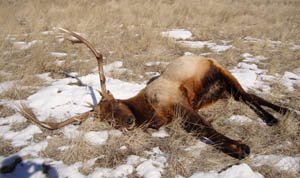 "One of the elk was left to rot and the other one was dragged approximately three miles down Highway 96, where the head was cut off and the left hind quarter was removed," Conservation Officer Desi Ortiz said.
Anyone with information about the incident is encouraged to call Operation Game Thief at (800) 432-4263. Individuals with information that leads to the arrest or charges filed can remain anonymous and may be eligible for a $750 reward.
###
Tune in to New Mexico Game and Fish TV:
"New Mexico Wildlife"
6:30 a.m. Saturdays on KASA Channel 2, Albuquerque
6:30 p.m. Sundays on KENW, Portales
7:30 p.m. Thursdays on KRWG, Las Cruces