BIOLOGISTS FIND OLDEST ENDANGERED JEMEZ MOUNTAINS SALAMANDER
LOS ALAMOS – Wildlife biologists made a startling discovery this week in the Jemez Mountains when they found what is believed to be the longest living endangered Jemez Mountains Salamander.
Mark Watson, a Department of Game and Fish biologist and a member of the New Mexico Endemic Salamander Team, said the salamander found just east of the Valles Caldera National Preserve is estimated to be 17 to 18 years old. It was identified as a salamander captured and tagged in 1998 by Department Herpetologist Charlie Painter.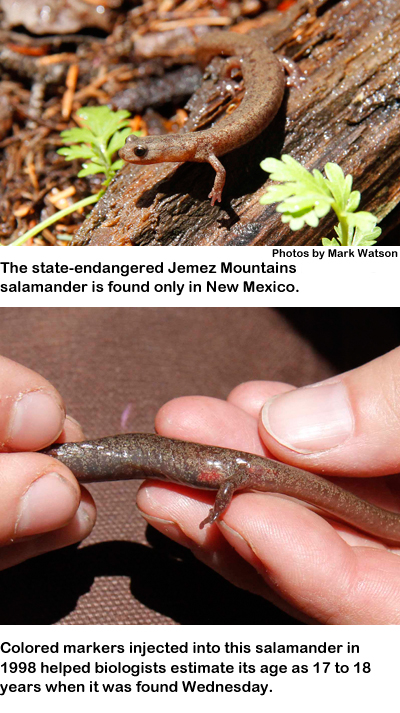 "This was a very exciting and surprising find," Watson said. "Experts had believed this species to be long-lived, but we never knew just how long-lived these salamanders could be."
The Jemez Mountains Salamander (Plethodan neomexicanus) of the family Plethodontidae, is lungless and breathes through its skin. It spends nine months of the year underground, coming out only during the summer monsoon rains. It is found only in the Jemez Mountains of New Mexico. It is listed as endangered under the state Wildlife Conservation Act and is a candidate for listing under the federal Endangered Species Act.
The salamander found under a small branch Wednesday was about five inches long. It was discovered during a salamander training workshop for about 25 biologists and naturalists representing Jemez Pueblo, The Nature Conservancy, Bandelier National Monument, the Valles Caldera National Preserve, and private consultants. The workshop was conducted by the New Mexico Endemic Salamander Team, which consists of members from the Department of Game and Fish, the U.S. Fish and Wildlife Service and the U.S. Forest Service.
###