New Mexico Department of Game and Fish
Public contact, Information Center: (888) 248-6866
Media contact: Karl Moffatt: (505) 476-8007
karl.moffatt@state.nm.us
FOR IMMEDIATE RELEASE, May 22:
New game wardens graduate from Law Enforcement Academy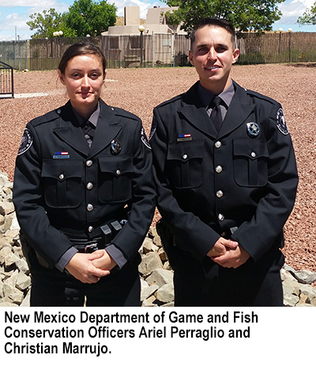 SANTA FE – Two New Mexico Department of Game and Fish game wardens graduated from the New Mexico Law Enforcement Academy in Santa Fe on Thursday.
The department's graduates of the 16-week law enforcement training academy are:
Ariel Perraglio of Kirtland and a graduate of New Mexico State University.
Christian Marrujo of Roswell and a graduate of the University of New Mexico.
In addition to the attending the law enforcement academy, conservation officers, also known as game wardens, undergo four weeks of departmental training in wildlife laws and department policies and procedures. They also undergo many months of on-the-job training under the supervision of a field training officer before being assigned to a district.
For more information about a career as a conservation officer with the Department of Game and Fish please visit www.wildlife.state.nm.us.
###