Beginning on June 6th, 2018 at dusk, Monastery Lake will be closed due to fire danger and will be closed until further notice. (News release: Fire restrictions, closures increasing statewide; Game and Fish patrolling Commission properties).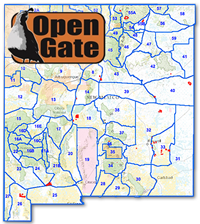 Open Gate property pages have moved to printable PDFs (containing both property information and map).
See the main Open Gate page, Property Locator tab.