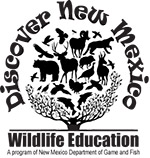 Discover New Mexico: Wildlife Education
was developed in-house by New Mexico Department of Game and Fish. Lessons offer new curriculum focused on New Mexico wildlife and wildlife management, offering direct connections to many academic content areas.
The curriculum is for upper elementary through middle school grade levels, and all lessons are correlated to the Common Core State Standards and current New Mexico Public Education Department Science Standards.
Kevin Holladay
Colleen Welch
Thank you to the following New Mexico educators for reviewing the curriculum.
Letitia Morris
Tish Morris Consulting
Albuquerque, NM
Elisa Bohannon
CEPi Charter High
Instructional support / Special education
Katrina Bustillos
La Plata Middle School
Grade 8
Tamra Gedde
Sierra Middle School
Roswell Independent School District
Grades 6-8
Kimberly Hanson
Las Cruces Museum of Nature and Science
Informal / All ages
Susanna Sprague Harris
Roosevelt A Montoya School
Grade 4
Steve Henley
Albuquerque Public Schools
Sandia Mountain Natural History Center
Grade 5
Barbara Henry
Albuquerque Public Schools
Grade 3
Kristi Henry
Mescalero Apache Schools
Grade 5
Cindy Lee
Snell Middle School
Cobre Consolidated Schools
Grades teaching 7-8
Ellen Loehman
Retired APS teacher; NMSTA
Grades 8-12
Debra Loftin
V. Sue Cleveland
High School
Grades 9-12
Molly Madden
Retired elementary; Friends of Whitfield, Cottonwood Gulch, EEANM
Tonya Massey
Zia Middle School
Grades 7 and 8
Wendolyn Murphy
Mescalero Apache Schools
Grade 5
Richard E. Quick
Las Cruces Museum of Nature and Science
Informal / All ages
Nate Raynor
Mescalero Apache School
Grades 9-12
Tricia Rose
Carlsbad Schools
Grade 6
Mike Sanchez
New Mexico Museum of Natural History & Science
Informal / All ages
Gena Smith
Goddard High School
Roswell Independent School District
Grades 11-12
Elizabeth Stone
Las Cruces Museums
Informal / All ages
Joni Watson
Cloudcroft Schools
Grades 6-8
Kelly White
New Mexico Museum of Natural History & Science
Informal / All ages