The NMDGF Shooting Program offers a Responsible Hunter Program as well as opportunities for Range Development.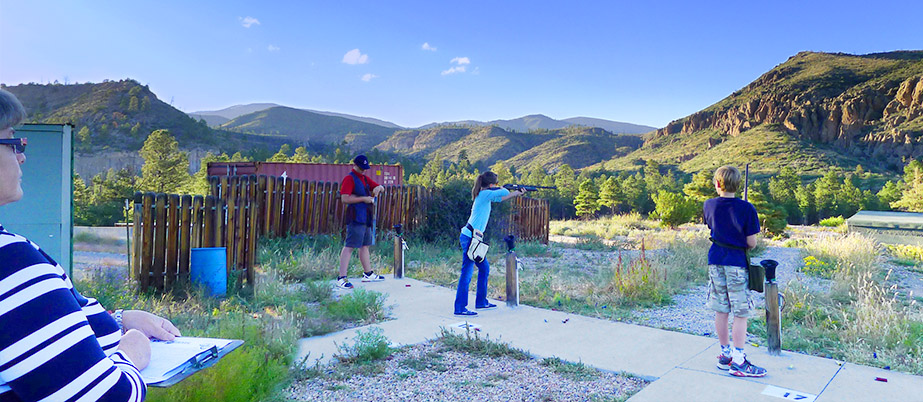 Responsible Hunter Program
The Responsible Hunter Program provides an opportunity to cultivate fundamental hunting and shooting skills; expose youth to competitive shooting events; teach the fundamental outdoor skills such as orienteering, wildlife identification, hunting and environmental ethics; teach hunting skills such as tracking, game calling, care of game, and game habitat management. The program will instill leadership and team spirit through group involvement and cooperation. The goal of the program is to establish a foundation of trustworthiness, respect, responsibility, fairness, caring and citizenship in youth hunters and shooters in New Mexico.
Live Fire Training
It is the recommendation of the Hunter Education and Shooting Sports Program's that the following criteria be established for a safe and viable live fire volunteer program and to enable volunteers, such as yourself, to become more involved with the live fire events, classes and outreach initiatives offered by the department.
This brief online training module will provide you the necessary information and updates required to allow you to teach and/or assist with New Mexico Department of Game and Fish live fire activities sponsored by either the Hunter Education or Shooting Sports Programs. Click on the pdf below to access the training!
Live Fire Instructor Training
NNM Clay Target Challenge
NNM Clay Target Results 09-21-2019
NNM Clay Target Results 10-06-2018
NNM Clay Target Results 08-27-2016
New Mexico Department of Game and Fish promotes and supports the development of safe, accessible target and sport-shooting facilities by taking a leadership role in partnering with ranges, industry, and communities. The Department provides statewide range development assistance through a variety of technical, educational and financial resources consistent with our goal of preserving current shooting opportunities while developing new ones, all available to present and future generations.
Visit Shooting Ranges for currently available locations.
Cody Johnston
Shooting Program Coordinator
575-291-2138
gary.johnston@state.nm.us