New Mexico Bass Challenge
NEW! Anglers can now submit their catches by email to

 

dgf-fishingchallenges@state.nm.us. This preferred method is only required once the challenge is completed. Please see #11 of the official rules.
To promote bass fishing opportunities in New Mexico and encourage anglers to branch out and discover new fishing waters and bass species, anglers can now participate in the New Mexico Bass Challenge.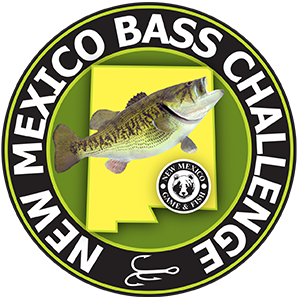 New Mexico Bass Challenge Flier
Most fishermen have considered New Mexico a quality trout destination, but it's the dedication and careful work of the Department's fisheries team that has made it a distinctive bass fishery as well. From Elephant Butte to Conchas Lake, bass fishing is just as popular as trout fishing.
Although the state of New Mexico may never have the numbers and sizes of bass like other states, New Mexico does offer some surprising opportunities for catching largemouth bass, smallmouth bass, white bass and spotted bass.
With the state's record largemouth bass coming in just under 16 pounds and the smallmouth record coming in at seven pounds, it's easy to see why New Mexico isn't overlooked when it comes to bass fishing. The best part about bass fishing in New Mexico is that anglers not only have the opportunity to catch bass from one end of the state to the other, anglers can fish year-round due to the state's accommodating climate.
Rick Torres
Stephen Dail
Ensley Aguilar
Korey Davidson
Corey Hardwick
Cheyenne Stice
David Turrietta
Anthony Dupree
Jose Hernandez
La Nez
Matthew Gonzales
Taylor Burgett
Wayne Garcia
Bryan Davis
Catch the four bass species listed below that are found in and inhabit lakes within New Mexico (Spotted Bass, White Bass, Largemouth Bass and Smallmouth Bass).
The New Mexico Department of Game and Fish has partnered with Powderhook to allow anglers to record and share their catches for the New Mexico Bass Challenge. Upon completing the challenge, the Department will be notified and you will be sent a New Mexico Bass Challenge coin, sticker, certificate of completion and you will be listed in the Bass Challenge Hall of Fame.
Installation: Search for "Powerderhook" in the App Store or click the icon below. Download the Powderhook application.
No fee or registration. No time limit.
Open to residents & non-residents.
Catch & Release encouraged.
Excludes Class A and privately stocked water.
No catch before 9-16-2020 allowed.
Only one (1) bass species per entry.
New submission required each new catch.
No limit to challenge completion per year.
Have a Customer Identification Number (CIN).
Have a valid New Mexico fishing license and abide by fishing rules and regulations.***
Anglers submitting a catch for this challenge can do so by emailing them to dgf-fishingchallenges@state.nm.us or downloading the Powderhook application on a smart device.
Submission must include angler's:

Full name, phone, email, mail address.
Current NM fishing license number.***
Customer Identification Number (CIN).
Date, catch, county, and body of water.
Catch photo. Photo becomes property of NMDGF for promotional media.

Must check completion box on final submission.
Upon verification, angler receives:

Certification of achievement
New Mexico Bass Challenge coin & sticker
Addition to Bass Challenge hall of fame
*** Licenses not required for anglers 11 or younger.
Complete List of Official Rules (PDF)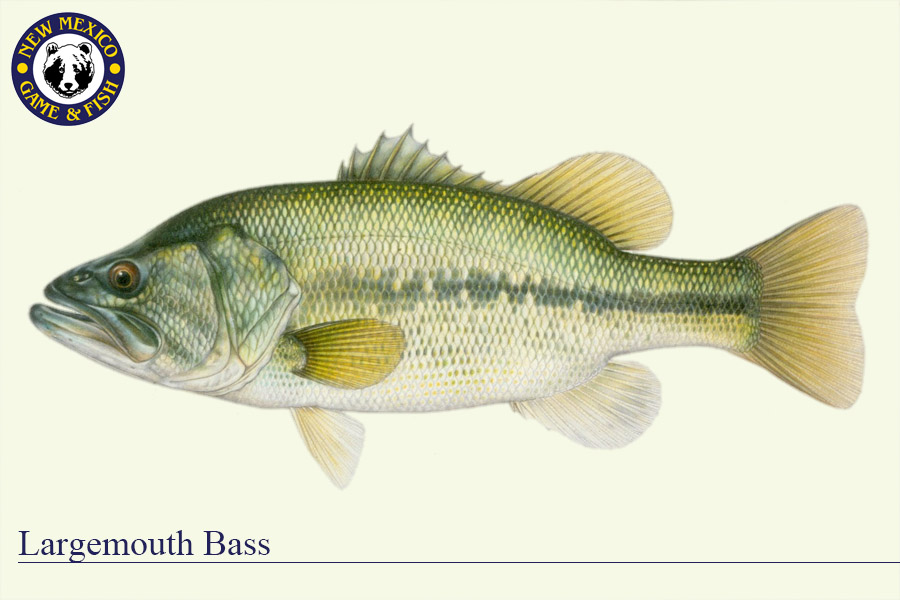 The largemouth bass is a sturdy, greenish-colored fish with a horizontal dark stripe along its side. Its upper jaw is big in proportion to its body, extending beyond the eye. The largemouth spends most of its time in its home range– a small, concealed area of deep cover– quietly waiting for food to come its way. Elephant Butte, Ute, Conchas are our best largemouth reservoirs.
Pound for pound, black bass are the most aggressive game fish in New Mexico. Originally found east of the Mississippi, black bass (which include primarily the largemouth and smallmouth species, but also spotted bass in a few reservoirs) have been transplanted throughout the West.
With voracious appetites and short tempers, black bass readily feed on small fish, crayfish, worms, lizards, insects, mice, small birds and frogs. They also strike on lures. Black bass and their food are usually found in and around cover, called "structure." Black bass typically hide next to logs, docks, underwater ridges, submerged brush and rocks or near an abrupt drop-off.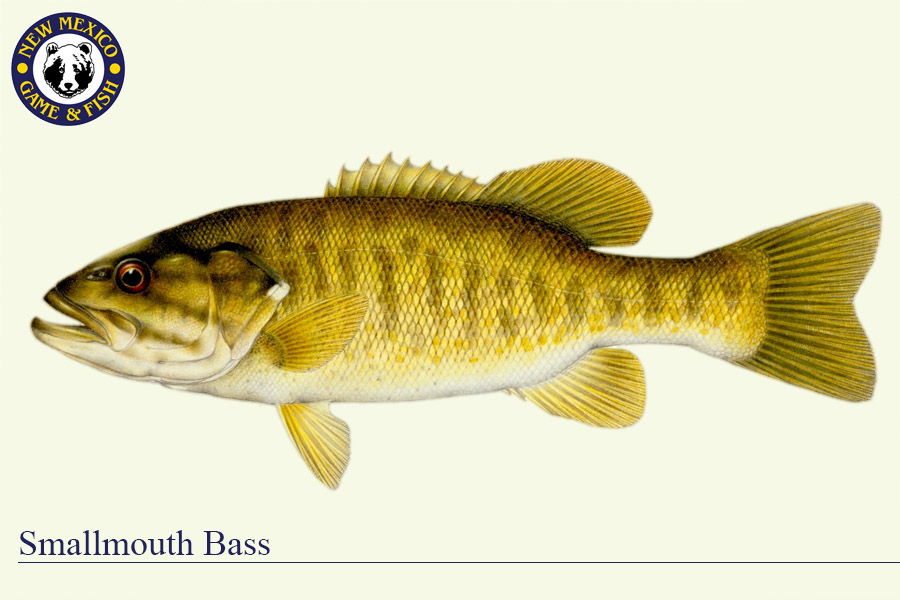 Smallmouth bass are typically bronze-colored, with dark, vertical stripes or blotches. The upper jaw is small and does not extend beyond the eye. In New Mexico, 'bronzebacks' are found in cool-water reservoirs, as well as in portions of the Gila River. They prefer rocky underwater habitat. Ute, Conchas, Navajo, Elephant Butte and Abiquiu are our best smallmouth reservoirs.
Also known as sand bass, sandies and silvers, white bass were first stocked in New Mexico in 1959. Smaller and chunkier than their striper cousins, white bass typically weigh about 1 to 1.5 pounds; a white bass weighing more than 2.5 pounds is highly unusual. Other white bass characteristics include silvery-white sides, marked by a series of horizontal stripes, only one of which extends to the tail. Except during spawning, white bass stay on the move in a continual search for food, along shorelines in open water.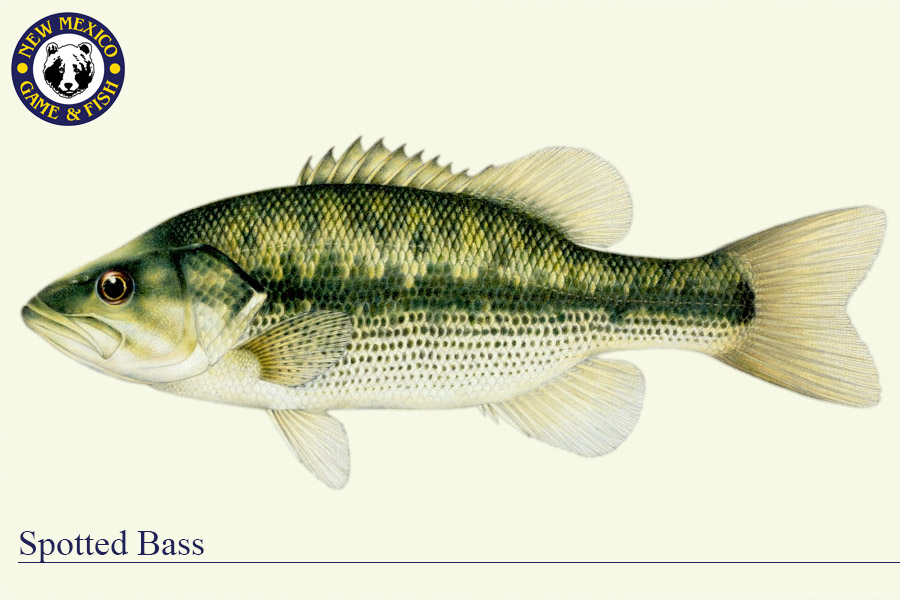 The scales on cheeks of spotted bass are smaller than on body, they have a hallow notch between dorsal fins, the upper jaw extends to eye, they have dark spots in rows, and they have dark horizontal irregular splotches on side. The state record, caught at Lake Carlsbad weighed in at 5 pounds 14 ounces.