New Mexico Trout Challenge
NEW! Anglers can now submit their catches by email to

 

dgf-fishingchallenges@state.nm.us. This preferred method is only required once the challenge is completed. Please see #11 of the official rules.
To promote trout fishing opportunities in New Mexico and encourage anglers to branch out and discover new fishing waters and trout species, anglers can now participate in the New Mexico Trout Challenge.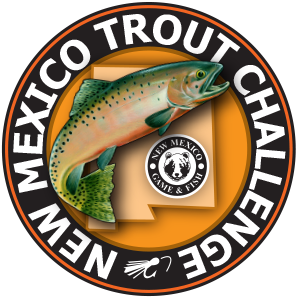 New Mexico is a state where the Rocky Mountains meet the desert. New Mexico is also a state that is rich in diversity from its many different climates to the fish and wildlife. Sportsmen and women of New Mexico are very fortunate to have such a diverse fishing opportunity, especially when it comes to trout.
New Mexico Trout Challenge Flier
New Mexico's winter trout stocking program allows anglers across the state the opportunity to catch a trout in places that might not have them on a regular basis due to weather and water conditions. The best part about trout fishing in New Mexico, is that anglers have the opportunity to catch trout from one end of the state to the other whether stream or lake.
Find out more about the Trout Challenge by listening to Northwest Regional Public Information Specialist, Ross Morgan, in a January 2020 radio interview requested by 98.3 KXDJ in the Texas Panhandle.
2020-2021 (click year and scroll)
Nicolas Villescas
Enrico Orozco
Stacey Talachy
Nicholas Gallegos
Andrew Montgomery
Valeria Anchondo
Jon Wickliffe
Christopher Ortega
Bryan Esquibel
Richard Luitich
Sean Staggs
Edward Marraccini
Calvin Blodgett
James Stoker
Jeff Patterson
Roy Thompson
Zachariah Cruz
Christopher Smith
Brian Cavazos Galvez
Jeff Fleming
Paul Gonzales
Paul Schroeder
James Garrettson
MariaElena Martinez
Art Ariaz
Pat Snyder
Jessica Montoya
Garry Willis
Tyrone Herfel
Matt Zeigler
Hans Herfel
William Hammond
Luis Saavedra
Grant Willis
Charles Montoya
Dave De Ruysscher
Jacob Griego
Meredith Zeigler
Nicole Romero
James Romero
Scott Wassmund
John Pike
Dave Modisette
Paul Hintzen
David Joyner
Annette Joyner
Brandon Ihlein
Aaron Andler
Karen Ihlein
Nicole Ihlein
Vic J. Kopnitsky, Jr.
Jesse Frizzell
Justin Moquino
Joseph Coucke
Garrett Cathey
Sadhvikas Addamane
Shylah Romero
Kevin Martin
Carl Covin
Tommy Mirabal
Ruben Gonzales
Jeff Schlecht
Mike Breidenbach
Chondra Breidenbach
Gavin DeBerry
Mark DeBerry
Cody McLean
Derek Voorbach
Mark Marsalis
Patricia Bailey
Boris Moquino
Chris Schneller
Sam Wood
Alex Marsalis
Russell Hunter
Thomas Tighe
Nicolas Lujan
Derb Carter
Andres Lujan
Merrill Lynch
Rick Torres
Justin Shupe
Barry Bleske
Patricia Barajas
Timoteo Barajas
Shaylyn Barwick
Tolman Moore
Marc Space
Todd Humphrey
Brett Myrick
Michael Satches
Gavin DeBerry
Mark DeBerry
Craig Cathey
Marcelo Richert
Mark Richert
Henry Atencio
Samuel Simmons
Sean Moore
Ashley Arrossa
Mark Hutchings
Roger Cook
Chris Dibble
Christopher Young
Jonathan Borrego
Toby Roybal
Michael Lopez
Charles Atsye
Mark Koch
Joshua Pacheco
Laura Eberhardt
Mitchell Curtis
Dathan Archuleta
Derrick Ortega
Eric Frey
Joey Merrell
Tyson Lanier
Thomas Morgan
Catch 5 trout (Rio Grande Cutthroat, Gila, Brown, Brook and Rainbow Trout) within New Mexico lakes & streams. Anglers who complete the challenge in New Mexico waters receive special awards & appear on this page.
The New Mexico Department of Game and Fish has partnered with Powderhook to allow anglers to record and share their catches for the New Mexico Trout Challenge. Upon completing the challenge, the Department will be notified and you will be sent a New Mexico Trout Challenge coin, sticker, certificate of completion and you will be listed in the Trout Challenge Hall of Fame.
Installation: Search for "Powerderhook" in the App Store or click the icon below. Download the Powderhook application.
No fee or registration. No time limit.
Open to residents & non-residents.
Catch & Release encouraged.
Excludes Class A and privately stocked water.
No catch before 1-1-2020 allowed.
Only one (1) trout species per entry.
New submission required each new catch.
No limit to challenge completion per year.
Have a Customer Identification Number (CIN).
Have a valid New Mexico fishing license and abide by fishing rules and regulations.***
Anglers submitting a catch for this challenge can do so by emailing them to dgf-fishingchallenges@state.nm.us or downloading the Powderhook application on a smart device.
Submission must include angler's:

Full name, phone, email, mail address.
Current NM fishing license number.***
Customer Identification Number (CIN).
Date, catch, county, and body of water.
Catch photo. Photo becomes property of NMDGF for promotional media.

Must check completion box on final submission.
Upon verification, angler receives:

Certification of achievement
New Mexico Trout Challenge coin & sticker
Addition to Trout Challenge hall of fame
*** Licenses not required for anglers 11 or younger.
Official Rules (PDF)