GAME-PARK OWNER PLEADS GUILTY IN ELK, BIGHORN THEFT CASE
GRANTS -- A former outfitter and owner of a private elk hunting park faces penalties of more than 4 1/2 years in jail and a minimum of $10,000 in fines and restitution after pleading guilty Monday to illegally transporting wild elk and receiving stolen bighorn sheep heads.
"We will continue to aggressively prosecute these types of serious crimes against our wildlife and communities," Cibola County District Attorney Lemuel Martinez said. "We will not tolerate anyone trying to illegally profit from wildlife that is owned by the citizens of New Mexico."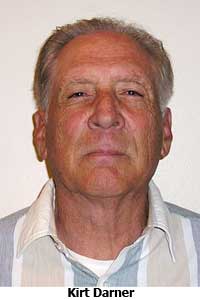 Kirt Darner, 69, also agreed never to hunt, fish or possess a firearm in his lifetime, and never again to operate as a guide or outfitter in New Mexico or Colorado. Cibola District Court Judge Camille M. Olguin accepted the plea agreement Monday. Sentencing will be at a later date. His wife, Paula D. Darner, 51, faces related charges.
Darner, a nationally known big-game hunter and guide, and Paula Darner were co-owners of the 40-acre Lobo Canyon Ranch north of Grants when they were indicted on multiple charges related to the possession of two trophy bighorn sheep heads and the illegal transport of stolen live elk. The Darners were accused of illegally moving three state-owned elk from the Lobo Canyon Ranch to the Pancho Peaks ranch and game park in southeastern New Mexico in 2005. Kirt Darner was paid $5,000 for each elk.
Department of Game and Fish officers who executed a search warrant at the Darner property in 2005 discovered a desert bighorn sheep head and a Rocky Mountain bighorn sheep head inside a vehicle. Further examination of the heads indicated they were stolen from a Montrose, Colo., taxidermy shop in 2000. The Colorado Division of Wildlife had offered a $4,000 reward for information about the sheep-head thefts.
The investigation involved close cooperation among the 13th Judicial District Attorney's Office, the Colorado Division of Wildlife and the New Mexico Department of Game and Fish.
The Darners currently live in Crawford, Colo.
If you have information about a wildlife crime, please call Operation Game Thief toll-free, (800) 432-4263. You can remain anonymous and may be eligible for a reward in information leads to charges being filed.
###