We encourage your participation.
To comment on State Game Commission items visit our Proposals Under Consideration page.
For opportunities to comment on Department plans visit the Public Comment page.
Publications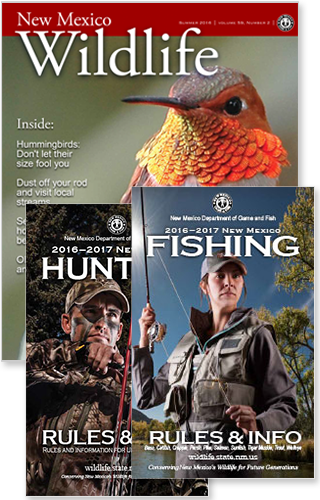 View our publications page for the latest available in print and PDFs including 2016-17 Fishing Rules and Information, the 2016-17 Upland & Big Game Hunting Rules and Information booklet and New Mexico Wildlife magazine.
Click Here
 for department-wide news, or view
News
 categories from the main menu.
License Sale Alerts
Youth encouragement antlerless elk licenses are now available to all hunter education-certified youths through the New Mexico Department of Game and Fish Online License System.
Click here for details in this latest news release.
Buy or print a license, get free permits, apply for draw hunts or check results with Customer Login.