The 2015-16 Migratory Game-Bird Hunting Rules and Information booklet is available online.
Online License Sales
Click the image below to immediately reach our Online Licensing System website.

Buy or print a license, get free permits, apply for draw hunts or check results with Customer Login.
Dec
10
Thu
The 2015-2016 pheasant season begins statewide, (excluding Valencia County ) determined on your hunting location. (For specific details see the 2015-2016 Hunting Rules and Guidebook).
Sunrise and Sunset (MST) at Albuquerque, NM
Add one minute for each 12 miles west of Albuquerque. Subtract one minute for each 12 miles east of Albuquerque. Mountain Standard Time (MST) changes to Mountain Daylight Time (MDT) beginning March 10, 2014 at 2 a.m. and ends November 4, 2014 at 2 a.m.(Source: http://www.timeanddate.com/worldclock/usa/albuquerque).
Dec
12
Sat
OHV Safety Class: ATV

@ Del Norte Gun Club
Dec 12 @ 10:00 am – 3:00 pm
All students must pre-register prior to class.
Click 
OHV Safety Class Pre-registration Instructions  for instructions to pre-register for a hands-on class.
Online training is also available that provides the required safety permit after completion (see Safety and Training: Online Training tab).
New Mexico law requires anyone younger than 18 to obtain a safety permit prior to operating an OHV on public lands. The Department offers free hands-on ATV or dirt bike training that provides a safety permit after completion. Students must provide a properly registered OHV and all necessary safety equipment.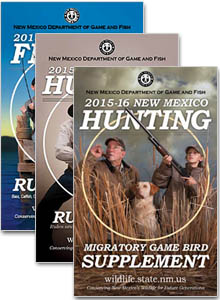 Click Here
 for department-wide news, or view
News
 categories from the main menu.
New Mexico Wildlife
Click Here for the new 12-page issue or visit our Publications page to read back issues.