To request publications by mail (nonresidents only) CLICK HERE or click the document title below to download a PDF version on your computer. NM residents must pick up copies of current year publication(s) from a local license vendor.
Available online and in print, the
NEW

2015-16 New Mexico Hunting Rules and Information
also provides essential information about game hunting licenses and fees, descriptions of public- and private-land uses, definition of criminal trespass, and information about hunter education. Off-highway vehicle use, the Mentored-Youth Hunter Program and Operation Game Thief are also contained.
2014-15 New Mexico Hunting Rules and Information
The 2014–15 New Mexico Migratory Game Bird Hunting Supplement is only for Migratory Game Bird Seasons which include American coot, band-tailed pigeon, common moorhen, common snipe, dark geese, dove, ducks, light geese, sandhill crane, sora and Virginia rail. Hunted waterfowl in New Mexico includes birds in the family Anatidae (ducks and geese) and coots. Hunting swans is not allowed in New Mexico.
Upland game seasons for grouse, quail, pheasant and squirrel are contained in the 2014-15 New Mexico Hunting Rules and Information. Refer to it for upland game seasons, hunting regulations, license requirements and fees.
PDF download:
-2014-2015 NM Migratory Bird Hunting Supplement (Updated 1-8-2015)
PDF download:
2014-15 Hunting Rules & Info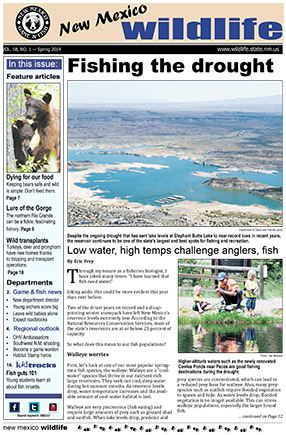 Download these coloring books or the Wildlife Notes series in our Education Materials section.