Aquatic Invasive Species (AIS)

Click the tab headings below to learn more about Aquatic Invasive Species.
Video courtesy of Texas Parks and Wildlife. The intent of this video is to teach New Mexico boaters the proper Clean, Drain and Dry techniques. Procedures for Clean, Drain, Dry began at 2:13 of this video. Laws regarding AIS in Texas are not the same as those in New Mexico.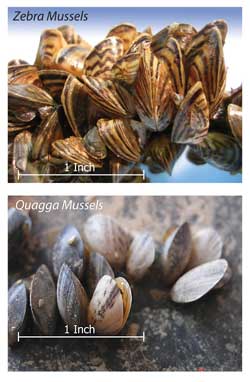 An Aquatic Invasive Species (AIS) is any non-native plant, animal, or pathogen that can harm our economy, environment and human, animal, or plant health. The New Mexico Department of Game and Fish, along with state, federal and private partners, are working diligently to stop the spread of Aquatic Invasive Species.
Of particular concern is invasion of our lakes and water by zebra and quagga mussels. Spread of these mussels not only pose a risk to our native aquatic wildlife, but also to all water-based recreation including boating and fishing, as well as to all surface water delivery systems including municipal water supplies, hydroelectric power generation and irrigation for farming and agriculture.
Currently, there is no known method for successful irradiation of these mussels, creating enormous management costs which will be passed along to New Mexicans. In a water-dry state such as ours, infestations by zebra or quagga mussels will affect everyone! This is why in New Mexico it is unlawful to knowingly transport AIS into and within New Mexico's borders.
The New Mexico Department of Game and Fish, along with New Mexico State Parks, the US Fish and Wildlife Service, the US Army Cops of Engineers, the US Bureau of Reclamation, along with other stakeholders are asking boaters to CLEAN, DRAIN and DRY their boats to stop the spread of harmful invasive mussels. Properly cleaning and drying your boat will also help keep it in good condition and allow all of us to continue to enjoy our favorite lakes for years to come. Boaters should be prepared for inspections throughout the state designed to help ensure that New Mexico's waters remain mussel-free!
Sign up for our AIS newsletter, e-mailed 3-4 times a year, to receive the latest info regarding Aquatic Invasive Species:
Current zebra and quagga mussel positive waters
Current NMDGF watercraft inspection locations
Tips for getting your watercraft Clean, Drain and Dry
Technology news and more…
Enter your email below and hit the submit button. On the page of Subscription Topics check the box beside Aquatic Invasive Species (AIS).
New 5-7-2015  Daily Times: Four Corner News
New Mexico Department of Game and Fish officials try to combat spread of mussels
List of Infested Water Bodies in the U.S.
Invasive Species Control Act Press Release

Texas Invasive: Hello Zebra Mussels. Goodbye Texas Lakes.
Western Regional Panel on Aquatic Nuisance Species
National Biological Information Infrastructure
New Mexico State Parks Boating Information