Click the tab headings below to learn more about fishing for New Mexico state warm water fish species including: black bass, temperate bass, catfish, panfish, pike, muskie, and walleye.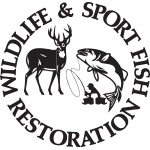 Sport Fish Restoration Act
A 10-percent federal excise tax on your purchase of fishing equipment and motor boat fuel helps states individually promote sport fisheries. This includes acquiring easements or leases for public fishing, funding hatchery and stocking programs, supporting aquatic education programs, and improving boating facilities for anglers.