The Department's Information and Education Division distributes its seasonal magazine, New Mexico Wildlife, as a PDF. You can find it here and download your own copy free of change. New Mexico Wildlife also releases monthly e-newsletters and special edition e-newsletters with exclusive content supplementing the seasonal PDF magazines.
Keeping New Mexicans informed about wildlife issues is critical to wildlife management. From small group programs to television broadcasts that reach thousands, NMDGF informs and educates the public. Click a program below to learn more.. Click a program below to learn more.
Skills Camps
introduce New Mexicans of all ages to the joys of hunting, fishing, and shooting through focused, hands-on experiences. These events will concentrate on specific disciplines like fly fishing the San Juan or quail hunting the Eastern plains.
Click Here to learn more.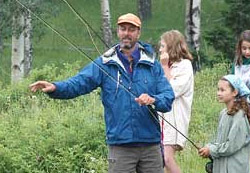 Aquatic Resources
promotes the state's aquatic environments through angler education for schools and communities, watershed education, and fisheries monitoring for New Mexico high school students. Activities offer fun for entire families in New Mexico's enchanting outdoors.
Click Here to learn more.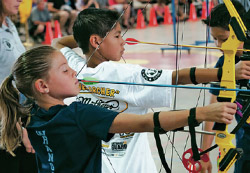 The 
National Archery in Schools Program
 introduces students to competitive archery at school and bowhunting summer programs. It  provides safety training, shooting techniques, respect, responsibility, trust, fairness, citizenship and caring in prospective shooters and hunters.
Click Here to learn more.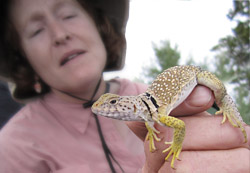 Conservation Education
provides a comprehensive, interdisciplinary fish and wildlife conservation education program to assist students of any age in the awareness, knowledge, skills and commitment to stewardship of New Mexico's wildlife and wildlife habitats.
Click Here to learn more.
Hunter Education
 provides an educational opportunity that enables students to safely participate in a hunting or shooting sport.  Hunter education and its corps of volunteer instructors strive to produce safe, ethical and responsible students into tomorrow's hunters and shooters.
Click Here to learn more
.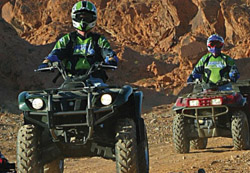 The  
Off-Highway Vehicle (OHV) Program
 provides for off-highway motor vehicle recreation that recognizes the importance of New Mexico's cultural, historic, and resource values while also ensuring public safety.
Click Here to learn more.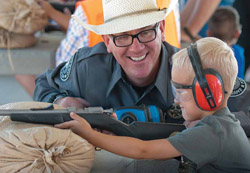 The
 Shooting Program
 introduces individuals to shooting sports while providing basic safety training, shooting techniques, and encouraging respect, trustworthiness, fairness, responsibility, caring and citizenship in prospective shooters and hunters.
Click Here to learn more
Safety is, first and foremost, the goal of all New Mexico Department of Game and Fish education programs. Whether you want to become a hunter, angler, or off-highway vehicle rider, our classes stress safety. The most important lessons our National Archery in the Schools Program students learn are how to safely use archery equipment. Conservation Education stresses safety, whether you live in bear and cougar habitat or just visit those of us who do. The Department of Game and Fish wants everyone to enjoy New Mexico's numerous outdoor recreation opportunities, and we ask that you do it safely.