New Mexico Virtual Archery Challenge Series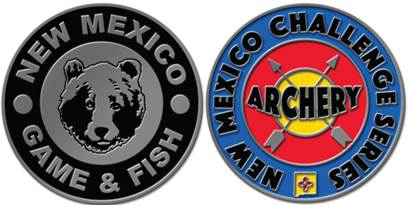 WHO CAN COMPETE?
New Mexico youth in grades 1st – 12th.
HOW TO PARTICIPATE
There are 7 monthly challenges. Compete in one, two or all seven to complete the series.
Shoot each challenge at your home or at school.
CHALLENGE FORMAT
Choose your bow style: NASP Genesis bow; Compound w/sight; Traditional-no sight; Olympic Recurve.
Shooting distance to target: 6-8 yds (1st – 5th /Elem), 8-10 yds (6th – 8th /Mid) & 10-12 yds (9th – 12th /HS).
Scores will be the result of 15 arrows (5 ends of 3 arrows).
CHALLENGE SCHEDULE
Seven (7) scheduled monthly challenges (January through July).
Monthly printable target faces will be available on the NMDGF website.
Print the monthly target face on 8.5" x 11" paper & tape it to your own target.
REPORTING SCORES
Submit your scores as many times as you wish until each challenge closes.
Your best submission will be your final score for that monthly challenge. Click here to submit your score.
MONTHLY RANKING & CERTIFICATES
At the end of each challenge, rankings will be made and the top scorers will be named.
Results will be posted on the education page of the NMDGF website.
Printable online certificates can be downloaded at the end of each monthly challenge.
Rankings are determined by division and bow type: Elementary (1st – 5th); MS (6th – 8th); & HS (9th -12th) grades.
SERIES AWARDS
A 2" Double-Sided Challenge coin will be awarded to participants completing 5 of the 7 challenges by each series deadline.
Series Rules for the Virtual Challenge Series
Safety Protocols for the Challenge Series
Submit Your Monthly Score – Click here to submit score.
If you are having difficulty submitting forms online, click here to use the Alternate Scoring Submission Form
Series Results – update at the end of each month. May results.
Series Challenge Targets – print monthly
January Target Challenge
February Target Challenge
March Target Challenge
April Target Challenge
May Target Challenge – at capacity/closed to new participants
June Target Challenge – at capacity/closed to new participants
July Target Challenge – at capacity/closed to new participants
Monthly Certificate – print after you submit your score
To be updated.