Rio Grande Cutthroat Trout
See below for more Rio Grande Cutthroat Trout information.
About Rio Grande Cutthroat Trout
Rio Grande Cutthroat Trout (Oncorhynchus clarkii virginalis; RGCT) is the southernmost occurring subspecies of Cutthroat Trout and is designated as New Mexico's state fish. RGCT are brilliantly colored, with brass colored sides transitioning to green and bronze toned backs complete with sparse spotting patterns. Many fish commonly display vibrant red coloration along their lower flanks and all RGCT possess a distinctive red-orange slash along their jawline.
RGCT occupy high-elevation headwater streams and lakes throughout southern Colorado and New Mexico. Due to the small waterbodies they inhabit, RGCT do not usually attain large sizes with mature fish generally reaching a maximum length of 10-12 inches. Fish mature at ages 3-5 and typically spawn in late May to early June during times of receding snowmelt runoff. They are generalist feeders, eating a variety of aquatic and terrestrial insects as well as the occasional fish. Like most trout species, RGCT require clean, cold water, ample riparian cover, and diverse in-stream cover to survive.
Conservation and Rio Grande Cutthroat Trout
Although long known to Native Americans, the first written account of RGCT came from Spanish explorers in 1541. Historically, RGCT occupied streams throughout the Rio Grande, Canadian, and Pecos river basins. Unfortunately, RGCT currently occupy only 12% of their historic distribution due to interactions with nonnative trout species and widespread habitat loss. Currently, 129 conservation populations of RGCT exist throughout their distribution and 89 of these populations occur in New Mexico.
The introductions of nonnative trout species has been identified as the biggest factor in the decline of RGCT in New Mexico. Species such as Brook Trout and Brown Trout often compete with RGCT for food. Additionally, Rainbow Trout can hybridize with RGCT leading to the loss of genetically pure RGCT populations. Other serious threats to the conservation status of RGCT include wildfire and drought. In 2008 the US Fish and Wildlife Service was petitioned to list RGCT under the Endangered Species Act, but their listing was deemed unwarranted in 2014. This decision showed how successful projects led by the Department and other partners have improved the conservation status of this iconic fish.
The New Mexico Department of Game and Fish has dedicated significant resources toward improving the conservation status of RGCT. A majority of projects focus on removing nonnative fishes from historic RGCT waters in order to restock newly restored streams with genetically pure RGCT. Other projects focus on protecting current RGCT populations from nonnative fish by installing fish barriers and by monitoring the health of existing populations.
Rio Costilla RGCT restoration
The Rio Costilla Project is one of the largest native fish restoration projects undertaken in U.S. history. When completed, this project will have restored RGCT to approximately 120 miles of stream, 15 lakes, and one 300-acre reservoir in the Rio Costilla watershed of northern New Mexico. This project has increased the current distribution of RGCT by 12% and reclaimed 2% of their historic distribution since beginning in 2002. The final phase of the Costilla Project is scheduled for completion in 2020 after the final stream treatments are conducted and RGCT are reintroduced to the system. The success of this project is attributable to the cooperation between agencies including; Turner Enterprises, Inc., the U.S. Forest Service, Colorado Parks and Wildlife, the New Mexico Department of Game and Fish, and Trout Unlimited.
Post-wildfire repatriation efforts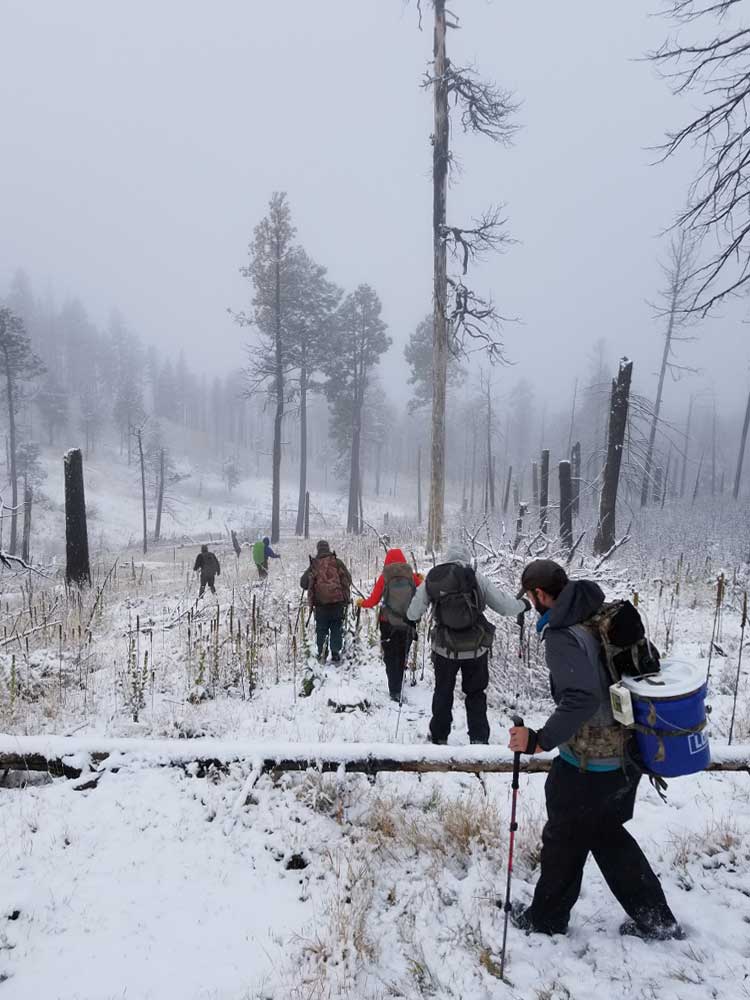 Wildfire has the potential to significantly impact the conservation status of RGCT in New Mexico. Wildfire risk assessments completed in 2013 found that 86% of RGCT populations exist in high wildfire risk areas. The NMDGF is continually working to duplicate at-risk RGCT populations on the landscape through fish transfers and wild-spawning efforts. By duplicating important RGCT populations, the risk of wildfires wiping out entire genetic strains of RGCT is reduced. For example, the Las Conchas fire of 2011 cleared Rito de los Frijoles of nonnative Brook Trout and its habitat was recently deemed suitable for RGCT reintroduction. Rito de los Frijoles was stocked with RGCT transferred from El Rito in 2018 with the help of volunteers and cooperative agencies. This type of repatriation effort benefits RGCT in two ways; by creating a new conservation population of RGCT in Rito de los Frijoles and by duplicating the El Rito RGCT population on the landscape.
Photo: Rio Grande Cutthroat Trout loaded on backpacks destined for stocking in Rito de los Frijoles, Bandelier National Monument
The New Mexico Department of Game and Fish operates Seven Springs Hatchery for the production of RGCT for conservation and recreational purposes. Broodstock kept at Seven Springs are genetically pure RGCT sourced from populations throughout the state. These fish produce offspring that are used to establish and maintain wild RGCT populations throughout New Mexico. In addition, RGCT from Seven Spring Hatchery are frequently stocked throughout the state to provide additional angling opportunities.
Pecos River basin RGCT restoration
Historically, RGCT were found throughout the upper Pecos River basin, however, only 12 conservation populations of RGCT currently remain. NMDGF is currently planning for future restoration projects in the Pecos River watershed. Restoring RGCT to this area will both improve their conservation status and provide unique angling opportunities. More information detailing future projects can be found in the Statewide Fisheries Management Plan.
Fishing and Rio Grande Cutthroat Trout
Catching a Rio Grande Cutthroat trout is a one-of-a-kind experience. Their beauty, tenacity, and willingness to eat just about anything have made them a very popular sportfish in New Mexico. If the fish themselves weren't enough to convince you to go fishing, RGCT live throughout the most scenic locations in the state. Native trout don't live in ugly places!
Anglers can find RGCT throughout the Northern portions of New Mexico. Popular areas for fishing include the Rio Costilla, upper Pecos, and Jemez regions. Though some RGCT populations are easily accessible, the majority are located in more remote areas. Depending on the experience an angler is after, one can day-trip from the truck or turn their search for RGCT into a remote wilderness experience.
Many RGCT populations in New Mexico are managed as "Special Trout Waters". Most RGCT conservation populations are catch-and-release only and the remaining populations are protected by a bag limit of 2 fish per day with gear restrictions. Please consult the New Mexico Fishing Rules and Information Booklet prior to planning your fishing trip. If you have questions regarding fishing regulations or where to catch RGCT, feel free to contact NMDGF. We are always happy to help.
RGCT Status Assessment 2016
RGCT Conservation Strategy 2013