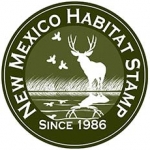 Click the tab headings below to learn more about the 
Habitat Stamp Program
.
Support wildlife conservation: click the logo at any time to purchase a Habitat Stamp.
Jun
15
Tue
Habitat Stamp Program Public Meeting

@ Virtual Meeting
Jun 15 @ 5:30 pm
The New Mexico Department of Game and Fish has scheduled a public meeting in order to allow the Citizen Advisory Committee to discuss Habitat Stamp Program Maintenance Activities. Members of the Public are invited to attend this meeting (to be held virtually) in order to offer feedback and ask questions.
Register in advance for this webinar:
https://us02web.zoom.us/webinar/register/WN_XP664KmOQv2HkDaJMdShiQ.  After registering, you will receive a confirmation email containing information about joining the webinar.
Comments can be provided by mail: New Mexico Department of Game and Fish, Attn: Habitat Stamp Program Manager, P.O. Box 25112, Santa Fe, NM 87504; or by email, Daniel.Lusk@state.nm.us, or in person at the meeting listed above.
HSP Meeting Agenda 06-15-2021
Habitat Stamp Program cooperators are to provide ecologically diverse wildlife and fish habitats on USFS and BLM managed lands by involving the public in an effective, cost efficient, honest, and cooperative management process for enjoyment and use by current and future generations of New Mexicans.
Helping Wildlife Where It Counts
What is the Habitat Stamp program?
The New Mexico Habitat Stamp Program is a collaborative partnership between sportspersons and federal land management agencies to enhance and conserve wildlife habitat on public lands in New Mexico. Licensed hunters, anglers and trappers on Bureau of Land Management (BLM) or U. S. Forest Service (USFS) lands are required to purchase the stamp from the New Mexico Department of Game and Fish (NMDGF). Each year, Habitat Stamp sales total approximately $900,000.
Funds are dedicated to habitat improvement projects each year, and are supported with funding and staff time from the USFS and BLM. Funding is not available for every proposed project, so a local Citizen Advisory Committee (CAC) helps to review and prioritize restoration treatments. Members of the CAC represent hunters, anglers, trappers, conservationists, and public land permittees.
The Habitat Stamp Program is a collaborative effort with the public land anglers, hunters and trappers of New Mexico, federal land management agencies, and the NMDGF. The habitat work accomplished through this program is an example of broad collaboration in the conservation community, as it benefits wildlife, watershed health, and public land users throughout New Mexico.
Recent News & Documents
2020 Projects
Project Forms
HSP Brochure (2017)
Proposal Form
Proposal Spreadsheet
HSP Completion Form 2019
Habitat Stamp Implementation Reports
2020 HSP Implementation Report
2019 HSP Implementation Report
2018 HSP Implementation Report
Citizen Advisors' Information
HSP Cooperators Directory 2020
HSP Guidance Document Appendices
HSP Guidance Document
HSP Regulation: NMAC 19.34.6
Sikes Act (New Mexico Sections): 16USC670a
Everyone who purchases the Habitat Stamp is participating in the Habitat Stamp Program. We encourage conversation-minded members of the public to consider purchasing the stamp at any license vendor. The habitat work accomplished by this program is of benefit to non-game as well as game species.
If you would like to become more involved consider volunteering to serve on one of the five regional Citizen Advisory Committees. The HSP Manager accepts nominations at any time. Nominations are forwarded to the State Game Commission for appointment and members serve three year terms. The CAC meets once a year to prioritize projects and periodically attend field trips to visit habitat projects. Additional meetings are held as needed to accomplish program work.
If you or your organization is interested in volunteer work on HSP projects contact the Department HSP Manager listed below or the wildlife biologists in each of the BLM Field Offices or USFS Ranger Districts. Opportunities for volunteer work include project construction, monitoring, and maintenance.
For more information or questions about the Habitat Stamp Program please contact:
Daniel Lusk
Habitat Stamp Program Manager
New Mexico Dept. of Game and Fish
Cellphone: 575-649-1658
daniel.lusk@state.nm.us
Your HSP Investment at Work

The Habitat Stamp Program (HSP) is a collaborative partnership between sportsmen, the New Mexico Department of Game and Fish (NMDGF), the Bureau of Land Management (BLM), and the U.S. Forest Service (USFS), and was implemented under authority of the Sikes Act (Public Law 93-452; 16USC670a) and New Mexico State Game Commission in 1986. The HSP was initiated on an experimental basis on the Valle Vidal Division of the Carson National Forest. A progression of areas fell under the Habitat Stamp Program jurisdiction until it culminated with statewide implementation in 1991.
Finally, thanks to sportsmen from whom a mandatory $5 fee is collected, there have been substantial funds available for wildlife habitat improvement. Every year sportsmen purchase approximately $900 thousand dollars worth of Habitat Stamp validations before they go afield to hunt, fish, or trap on BLM or USFS lands in New Mexico.
Wetland, Waterway, and Riparian Projects
Improvement of wetlands, waterways, and riparian areas enhance habitat for the wildlife that live both in and around wet environments. These improvements include in-stream structures, bank stabilization, riparian plantings, riparian enclosures, invasive species removal, and aquatic monitoring.
Vegetation Projects
Improvement of food, cover, and movement corridors is accomplished through a wide variety of projects, each designed to improve habitat. These projects include prescribed burns, mechanical and hand thinning, chemical application, and seeding.
Water Developments
Providing dependable sources of water benefits all wildlife. Water developments can include earth tanks, seep and spring enhancement, trick tanks and guzzlers, and maintaining existing infrastructure.
Other Related Projects
There are numerous other Habitat Stamp projects being completed that have a more indirect effect on improving the quality of wildlife and habitat. Such projects include wildlife census, species reintroduction, road management, fencing and fence modifications, and law enforcement.
Accomplishments of the Habitat Stamp Program
In the 32-years of implementing projects through the HSP, 2,398 wildlife and habitat enhancement projects have been funded at a level of over $49 million. Through this effort, the HSP has contributed over $21 million and federal agencies have reported contributing an additional $24.4 million in the form of labor, materials, planning, fiscal tracking, National Environmental Policy Act compliance, and obtaining archeological/cultural clearances. Since it was tracked in 1999, other organizational and volunteer partners have been reported to contribute $4 million in time and resources to this effort.
The combined agency (USFS and BLM) ratio for matching funds over the life of the program, 1986-2017, is $1.16 for each $1 spent by HSP. The cooperating agencies' ability to match HSP funding varies from year to year based upon priorities and the level of federal funding available within the agencies' budgets.
During the life of the program, the HSP funds have been used to improve approximately 849,854 acres of terrestrial habitat; enhance approximately 11,462 acres of riparian habitat; build 801 places for wildlife to obtain water; complete 825 wildlife population, habitat surveys and/or program needs assessments; complete 17 wildlife transplants; improve 88 aquatic habitat/fishing areas; maintain and/or monitor previously built structures 11,100 times; install approximately 805 erosion control structures for watershed improvement; provide habitat and shelter for wildlife; reduce human impacts on wildlife; and improve overall public enjoyment of wildlife.
Areas the Habitat Stamp is Required/Not-Required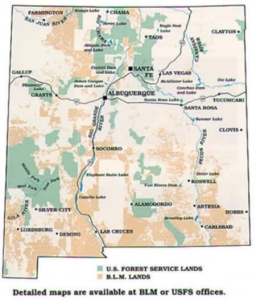 Habitat Stamp Cost: $5
A Habitat Stamp is required, in addition to the proper license, to fish, hunt, or trap on US Bureau of Land Management (BLM) and US Forest Service (USFS) lands and waters in New Mexico. The funds collected are used to improve forests, lakes and streams on public lands as a long-term investment in habitat for fish and wildlife and to help assure our game and fish have a place to live and rear their young. Habitat enhancement projects are submitted through the Habitat Stamp Program, and are reviewed and prioritized by five citizen advisory committees from different parts of the state. Approved projects are then carried out by the BLM and USFS in cooperation with the New Mexico Department of Game and Fish.
The license year runs from April 1st to March 31st and the Habitat Stamp is a one-time, annual purchase. The Habitat Stamp validation expires at the end of a license year. A signed license with a Habitat Stamp validation must be in possession while hunting, fishing or trapping on USFS and BLM lands. If a person has a Habitat Stamp validation on a fishing license, for example, and later purchases a hunting license, they do not need to purchase a second Habitat Stamp. However, it is highly recommended to re-print the current license immediately after the purchase, or prior to the next hunting fishing, or trapping trip on USFS or BLM lands. The re-printed license will have all previous and currently purchased licenses and validations.
Areas the Habitat Stamp is Required
The stamp is required on the following federal lands:

  Carson National Forest
  Cibola National Forest
  Coronado National Forest
  Gila National Forest
  Lincoln National Forest
  Santa Fe National Forest
  Kiowa National Grasslands
  All BLM properties (except those in Game Unit 28)
The following lists point out some specific public areas where the stamp is required.
Northwest New Mexico

Chama River within Carson NF
Hopewell Lake
McGaffey Lake
San Gregorio Lake

Northeast New Mexico

Canadian River at Mills Canyon
Orilla Verde Recreation Area
Pecos River between Cowles and Pecos where it flows through Santa Fe NF
Rio Grande Wild and Scenic River where it flows through BLM lands
Red River Wild and Scenic River where it flows through BLM lands
Red River above and below the town of Red River where it flows through Carson NF
Valle Vidal

Southwest New Mexico

Gila River
Lake Roberts
Quemado Lake
Snow Lake
Willow Creek

Southeast New Mexico

Cedar Hills – Pine Lodge
Delaware River (BLM)
Fort Stanton (BLM)
Pecos River from Malaga to Texas state line
Rio Bonito Creek (USFS)
Rio Bonito – Fort Stanton area (BLM)
Areas the Habitat Stamp is Not Required
The stamp is not required on the following lands:

  County lakes, streams and properties
  Indian pueblos and reservations
  Municipal lakes, streams and properties
  NM Department of Game and Fish big game and waterfowl areas; and department fishing areas not located on USFS lands
  NM State School Trust lands
  Private lands
  US Army Corps of Engineer lakes and properties
  US Bureau of Reclamation lakes and properties
  US Fish and Wildlife Service refuges
  US military installations
The following lists point out some specific public areas where the stamp is not required.
Northwest New Mexico

Abiquiu Lake
Bluewater Lake
Cochiti Lake
Drains and ditches in Albuquerque area
El Vado Lake
Fenton Lake
Heron Lake
all other fishing and hunting areas in GMU 4
Jackson Lake
Jemez Canyon Dam
Lake Farmington
Los Alamos Reservoir
Manzano Lake
Morgan Lake
Navajo Lake
Ramah Lake
Tingley Beach

Northeast New Mexico

Charette Lakes
Cimarron River
Clayton Lake
Coyote Creek
Conchas Lake
Dry Cimarron
Eagle Nest Lake
Gallinas Ice Pond
Lake Alice
Lake Maloya
Maxwell Lake No. 13
McAllister Lake
Monastery Lake
Mora Campground on Pecos River
Morphy Lake
Pecos River (the parts within the Bert Clancy Fishing Area)
Rio Costilla downstream of Valle Vidal
Springer Lake
Storrie Lake
Tucumcari (or Ladd Gordon) Lake
Ute Lake
Villanueva State Park
White's Peak

Southwest New Mexico

Bear Canyon Lake
Bill Evans Lake
Bosque del Apache National Wildlife Refuge
Burn Lake
Caballo Lake
Elephant Butte Lake
Escondida Lake
Glenwood Pond
Leasburg Dam
Mesilla Dam
Percha Dam
Rio Grande Pond
Sevillita National Wildlife Refuge
White Sands Missile Range

Southeast New Mexico

Alto Lake
Avalon Lake
Bataan
Bitter Lake National Wildlife Refuge
Black Lake
Bonito Lake
Bottomless Lakes
Brantley Lake
Carlsbad Municipal Lake
Cottonwood Creek
Eunice Lake
Felix River
Green Meadow Lake
Grindstone Lake
Jal Lake
Lake Van
Maddox Lake
Penasco River
Power Dam Lake
Rio Ruidoso
Santa Rosa Lake
Sumner Lake
Willow Lake
Creating Food for Wildlife
Importance of Water in New Mexico
Click +/- to view:
Central Region
CB: BLM – Rio Puerco Field Office
CBS: BLM – Socorro Field Office
CF: Cibola Natl. Forest (excludes Kiowa Natl. Grasslands)
Northeast Region
NEB: BLM – Taos Field Office
NECF: Carson Natl. Forest (exclude Jicarilla Ranger District)
NEK: Cibola Natl. Forest – Kiowa Natl. Grasslands
NESF: Santa Fe Natl. Forest
Northwest Region
NWB: BLM – Farmington Field Office
NWF: Carson Natl. Forest – Jicarilla Ranger District
Southeast Region
SEBC: BLM – Carlsbad Field Office
SEBR: BLM – Roswell Field Office
SEF: Lincoln Natl. Forest
Southwest Region
SWBL: BLM – Las Cruces Field Office
SWFC: Coronado Natl. Forest
SWFG: Gila Natl. Forest