New Mexico Aquatic Resources Education Program
The Aquatic Resources Education provides fun and educational ways to introduce kids and adults to the sport of fishing, angling ethics and fisheries management and watershed monitoring techniques. The program is funded by anglers through the money provided by the Sports Fish Restoration Act – a federal program that taxes motorboat fuel and equipment purchased by anglers.
Learn to fish from a pro — for free!
Casting a line and catching fish — the basics of angling –offer fun for entire families in New Mexico's enchanting outdoors. For those who have never fished or are a little rusty, yet eager to get started, the Fishing Skills Program offers free camps and skills training with all the equipment you need for learning from experienced, professional educators.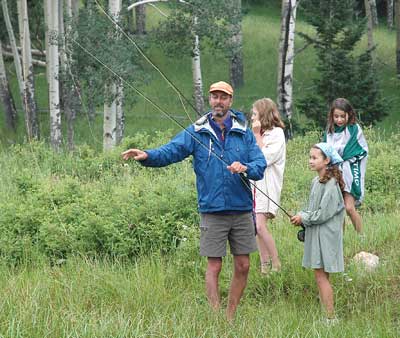 Students of all ages learn basic skills:
• assembling tackle
• knot tying
• identifying fish and good fish habitat
• casting • fish handling
• New Mexico's fishing rules and regulations
• angling ethics
• aquatic food webs
• outdoor safety and fishing safety
• basic and intermediate fly-fishing skills
• Watch for New Mexico Free Fishing Day events on the first Saturday in June each year and local community fishing events in your area.
• Free Fishing Days: see the NMDGF Fishing Calendar for upcoming events. Statewide fishing camps will be posted in the spring.
To schedule a fishing camp or skills training in your community or school, contact:
Wildlife Conservation Volunteer
Help Make a Difference | Become a Wildlife Conservation Volunteer!
The New Mexico Department of Game and Fish has been supported by a corps of dedicated volunteers for many years and recognizes the valuable role they play in accomplishing its mission. Volunteers from across the state share their time and talents to help enhance the department's programs and initiatives, and to provide essential services that otherwise might not be provided. Volunteer hours also are used as an in-kind match for federal assistance dollars that help to further the department's wildlife conservation and education efforts for the citizens of New Mexico.
Free Fishing Day and Fishing Camps
The first Saturday in June and the fourth Saturday in September (NMDGF Fishing Calendar) are free fishing days in New Mexico, when anglers of all ages, resident or nonresident, can fish without a license. The Department of Game and Fish and its community partners conduct free fishing camps at waters statewide on free fishing day in June.
The Department also invites schools, camps, nature centers, scouting groups and other community and youth organizations to schedule fishing camps and angling skills training throughout the year. To schedule or ask about a fishing camp or classroom skills training call Dennis Segura, Sportfishing Education Coordinator, (505) 476-2555.