Conservation Officer Trainees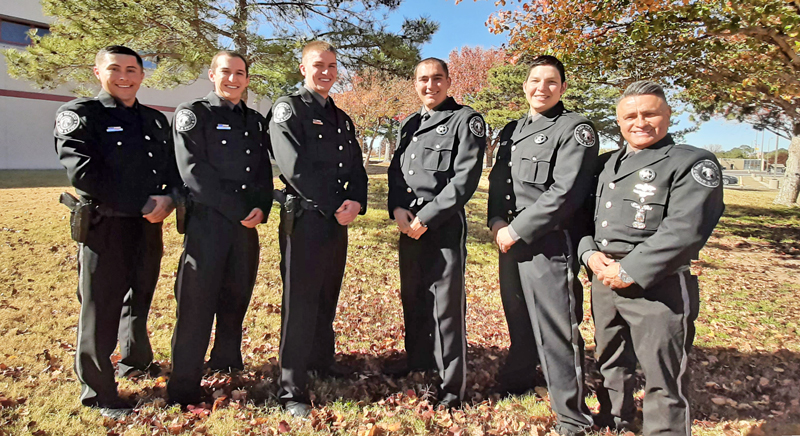 The following page provides information about the hiring process. Visit the State Personnel Office website to apply. 
Now Hiring!
Application Deadline: Thursday, March 30th, 2023
To become a Conservation Officer, the educational requirements include a Bachelor of Science degree from an accredited college or university in biological sciences, police science or law enforcement, natural resources conservation, ecology, or related fields. The Department has determined that "related fields" are, but are not limited to: Agricultural Science, Animal Science, biology, botany, chemistry, conservation, criminal justice, criminology, ecology, entomology, environmental management, environmental science, environmental studies, fisheries or wildlife management, forestry, forest wildlife, geography, geology, herpetology, life science, mammalogy, marine biology, natural resources, ornithology, physics, psychology, plant taxonomy, range science, water quality management and zoology.
Updated 2-10- 2023:
March 1: Job Announcement Opens
March 30: Job Announcement Closes at 17:00 (Mountain Standard Time (MDT))
April 29: Physical Pre-Assessment Testing (see physical standards for below 6,000 feet) and Wildlife Written Exam (see sample test for study tips): Albuquerque
April 30: Interviews (if applicant passed physical pre-assessment and written testing): Albuquerque
May 2: Medical Examination (if selected to continue the process): Albuquerque
May 3: Psychological Examination (If selected to continue the process): Albuquerque
May 4: Uniform & Body Armor fitting at Galls/Kaufman's West (if given a conditional job offer): Albuquerque
May 15: Start date. Report for duty at the NMDGF Southeast Area Office in Roswell at 08:00 MDT.
May 22-31: Recruit Basic Firearms Training: Location TBD
June 5- 14: Recruit School Block 1 – Law Block: Roswell
June 17 – 30: Recruit School Block 2: Chama
July 5- 9: Recruit Basic Boat Operations Training: Elephant Butte
July 12: Hunter Education Instructor Workshop: Albuquerque
July 15-19: Wilderness Patrol Tactics & Horse Packing: Gila Hot Springs
July 20: Southeastern New Mexico Law Enforcement Academy Basic Police Officer Physical Pre- Assessment (same physical standards as April 29th): Hobbs
July 27- 28: Wildlife Restraint, Immobilization and Euthanasia: Albuquerque
Aug. 13: Southeastern New Mexico Law Enforcement Academy Basic Police Officer Training #A-22-50- Hobbs
Dec. 8: Southeastern New Mexico Law Enforcement Academy Basic Police Officer Training #A-22-50 Graduation- Hobbs
Dec. 23 *: Report for duty to your assigned Field Training Officer (FTO) for 14 weeks of in the field training
February *: Recruits will get their district duty station assignments and can begin preparing to find housing etc.
April 13*: Upon successful completion of all training recruits will be promoted to District Wildlife Officer and will be stationed in their own district.  Duty stations could be anywhere in the state and will be based on Department need.
*These are approximate dates.  The exact date will be situation/recruit dependent and may vary from this schedule.
Please call or email Lt. Andrew Armendariz with any questions about becoming a Game Warden, the hiring process or to schedule a ride along with an officer in any area of the state.
Andrew Armendariz
Lieutenant- Field Operations Division
New Mexico Department of Game & Fish
Cell Phone – (505) 690-9563
Email – Andrew.Armendariz@dgf.nm.gov
Conservation Officers (Fish and Game Wardens) can be found patrolling the lands and waters of the state day and night. Most people will tell you that enforcing the game and fish laws is their primary responsibility, but the job doesn't stop there. In addition to enforcement, the conservation officer educates the public about wildlife and wildlife management, conducts wildlife surveys, captures "problem animals," investigates wildlife damage to crops and property, assists in wildlife relocations and helps to develop new regulations.
See also:
NMDGF Featured Officers
NM Department of Public Safety
Law Enforcement Academy
4491 Cerrillos Road
Santa Fe, NM 87507
Phone: 505-827-9251
www.lea.nm.gov
For assistance or questions relating to job postings and online applications, please contact:
New Mexico State Personnel Office (SPO)
Career Services – Job Opportunities
(505) 476-7759 or email applicant.support@state.nm.us
NEOGOV Customer Support 1-855-524-5627
NMDGF Conservation Officers