New Mexico Bass & Trout Challenge
To promote bass and trout fishing opportunities in New Mexico and encourage anglers to branch out and discover new fishing waters and species, anglers can participate in the
New Mexico Trout Challenge
and the
New Mexico Bass Challenge
. Catch all the challenge species that are found throughout New Mexico to receive your certificate and challenge coin.
New Mexico Master Angler Award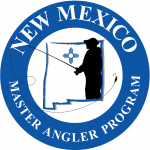 The New Mexico Master Angler Award Program challenges anglers with catching one or all of the 26 fish species that are outlined in the official rules of this program. To participate in the New Mexico Master Angler Program, you do not have to be a resident of New Mexico. To be eligible, fish must be taken legally in New Mexico waters that are open to the public without fishing charges or fees.