New Mexico Habitat Information
Guidelines for minimizing impacts of specific land use practices on wildlife and wildlife habitats. Read more…
The New Mexico Habitat Stamp Program (HSP) is a joint venture between sportspersons and the agencies that manage wildlife and their habitat. Read more…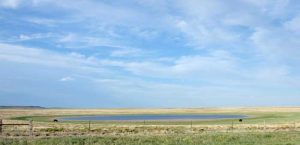 New! Did you know that playa lakes are critical features not only for wildlife, but also for recharging the aquifer? These important features provide water and food sources for waterfowl, the grassland buffers around the playa provide habitat for songbirds, and the clay bottom of the playa allows water to filter down to the aquifer for future use as drinking water or for agriculture. The Department has launched an initiative to improve wildlife habitat by paying for playa lake restoration. If you have playa lakes on your property in eastern New Mexico and are interested in restoring them, please read this flyer to learn more about the program.
NMDGF Playa Restoration: Put Your Playa to Work
State Game Commission (SGC) Lands
State Game Commission (SGC) Lands include Wildlife Management Areas and other properties owned, managed, or controlled by the New Mexico State Game Commission. SGC Lands are managed by the New Mexico Department of Game and Fish for the benefit of fish, wildlife, and their habitats. New Mexico's SGC Lands also provide public access for hunting, fishing, and wildlife-associated recreation. Click Here.
Funding Conservation for New Mexico
Results of a survey of wildlife viewers in New Mexico regarding their behaviors, financial contributions to and perceptions of state agencies, and ways that the New Mexico Department of Game and Fish can better support their wildlife viewing activities.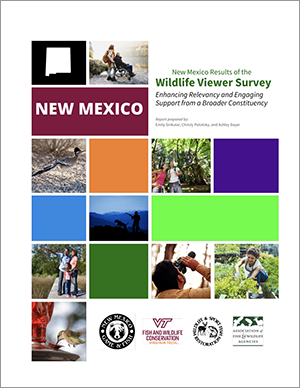 New Mexico Results of the Wildlife Viewer Survey
A study to investigate potential sources of increased state funding for New Mexico Department of Game and Fish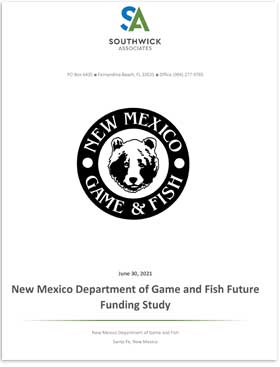 New Mexico Department Of Game And Fish Future Funding Study
Guidelines for conserving wildlife habitat while developing oil and gas resources.
Oil And Gas Develelopment Guidelines
Wildlife Damage Management
Internet Center for Wildlife Damage Management. Click Here.