New Mexico Master Angler Award Program
Master Angler Award Application
The New Mexico Master Angler Award Program challenges anglers with catching one or all of the 26 fish species that are outlined in the official rules of this program. To participate in the New Mexico Master Angler Program, you do not have to be a resident of New Mexico. To be eligible, fish must be taken legally in New Mexico waters that are open to the public without fishing charges or fees.
Fish taken as a part of this program must be taken from waters as described above and must meet or exceed the minimum size listed in the table below. You must also have a valid New Mexico fishing license and abide by all rules and regulations for waters in which you are fishing. A witness is required, and this individual may also weigh and measure the fish. A side-view color photo of the fish on a measuring board or next to a tape measure must be provided . New Mexico Game and Fish is granted permission to use any image(s) provided.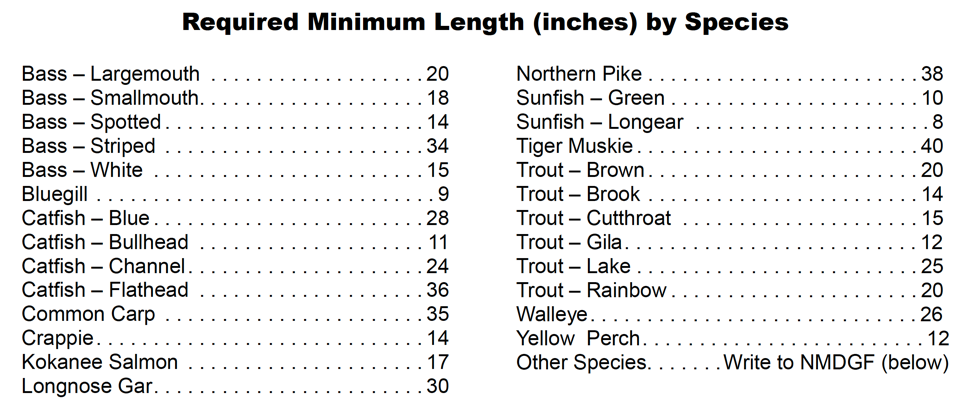 To be entered, you must weigh and measure your catch and fill out the application below. Mail the completed application to the New Mexico Department of Game and Fish, Attn: NM Master Angler, 1615 W. College Boulevard, Roswell, NM 88201, or electronically at dgf-fishingchallenges@state.nm.us.
Once verified, you will receive a certificate, and your name will appear on the Master Angler Hall of Fame under each species of fish that you catch, meeting the minimum requirements for that year. There is no limit on the number of fish that you can submit for this challenge.
Happy Angling!