State Land Hunting Access
Effective April 1, 2021 – The New Mexico Department of Game and Fish negotiated an easement with the State Land Office to secure access to most State Trust Lands for hunters and anglers during the 2021-2022, 2022-2023, 2023-2024 and 2024-2025 license years ending March 31, 2025.
Click the links below for more information and a map of access points and camping areas.
SLO SGC Easement
(State Game Commission Easement for Hunter and Angler Access on State Lands Trust Lands, effective April 1, 2021)
Hunting Access Info Map (http://mapservice.nmstatelands.org/HuntingInformation/)
To take advantage of the hunting opportunities unitized ranches provide, hunters must have a valid license for the season and species identified in each agreement. Each agreement specifies the hunting season(s) and species which apply.
Also, to assist and inform hunters in the field, signs will be posted on public and private property where unitization agreements are in effect. Game animals taken on private land without landowner permission or taken on public land without a private-land license will be seized.
Unitized Ranch Agreements & Maps
Click the links below for 2022-2023 contract agreements and maps for unitized ranches in southeastern New Mexico.
Please note:
Felix River Ranch Unitization 2020-2021 (GMU 32) is no longer valid. (3-31-2022).
Bedford Unitization 2020-2021 (GMU 40) is no longer valid. (1-11-2021).
L Bar Pintosa Unitization (GMU 38) is no longer valid. (10-23-2019).
Ranch Agreements
Ranch Maps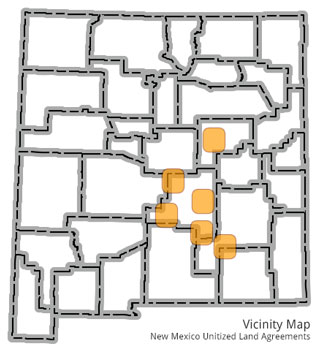 Unitized Ranch Information
The "unitization" agreements among the State Land Office or Bureau of Land Management (BLM), the Department and several landowners in the southeastern part of the state are designed to benefit sportsmen and landowners. Under the agreements, unitized State Trust or BLM land would be treated as private property and would be closed to hunting and trapping. The private lands covered under the agreements then would be open to public hunters and trappers. Unitization agreements give hunters and trappers access to private land while providing landowners greater flexibility in maintaining ranching operations on often-landlocked public lands.