Mentored-Youth Hunting Program
The Department is excited to announce revisions to the Mentored-Youth (MY) Hunting Program passed by the State Game Commission in December 2020. Changes to the MY Program are reflected below and will take effect on January 13, 2021.
Becoming involved in the Department's Mentored-Youth (MY) Hunting Program is simple.
The MY program is available to first-time hunters eight (8) to 17 years of age. Participating youth must pass a Department-sponsored online quiz to receive their unique MY Hunter number. This number will allow the qualified youth to purchase a Game-hunting License or Game-hunting & Fishing License before taking a hunter education course and hunt under a Mentor's supervision.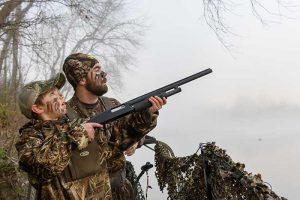 MY hunters 8 and 9 years of age are eligible to purchase a Game-hunting or Game-hunting & Fishing License and hunt small game only.
MY hunters 10 to 17 years of age are eligible to purchase a Game-hunting or Game-hunting & Fishing License and may hunt and apply for the following species: deer, javelina, pronghorn, turkey, and small game. Please note that youth must be of the specified age by the March 2021 application deadline to apply for qualified species through the draw.
Mentors can be parents, guardians, or adults with parental consent who are at least 18 years of age who must also possess a valid hunting license. Starting January 13, 2021, any Mentor responsible for a MY Hunter will be required to have a Mentor Number issued by the New Mexico Department of Game and Fish or a hunter education number issued by the Department or another qualified state before taking an MY Hunter afield. The Mentor Number is not required to apply for hunts or to purchase a hunting license. At all times while hunting, the Mentor and MY Hunter must be within unaided sight and voice distance from one another.
How to Become a Mentored-Youth Hunter
First, each youth and mentor will need to create separate Department Customer Accounts (CIN) if they do not already have one. Click here to create your account.
Next, each youth and associated mentor must pass an online quiz to receive either a Mentored-Youth Hunter Number or a Mentor Number.
Mentored-Youth Hunter and Mentor Quiz's
Each corresponding quiz is 25 multiple-choice questions about firearms, ammunition, ethics, hunter safety, shooting fundamentals, outdoor survival, wildlife identification, game care, laws, and regulations. A passing grade of 80% is required, and if necessary, each quiz can be retaken until passed. Upon successful completion, the corresponding number will automatically upload into the youth or adult CIN accounts.
A free online study guide is also available at www.hunter-ed.com/newmexico/studyGuide/20103303/ before taking either quiz.
Mentor-Youth Hunters: Click here to take the New Mexico Mentored-Youth Hunter Quiz.
Mentors: Click here to take the New Mexico Mentor Quiz
The Department remains committed to our customers. However, due to COVID-19, technology systems, and customer support, our online course providers' response times may be delayed. Your continued patience is appreciated.
How Long is the MY Hunter and Mentor Registration Good For?
Once registered, MY Hunters may hunt with a qualified Mentor for up-to two consecutive license years. Before the registration expires, MY Hunters are required to complete a Hunter Education Course, after which the youth can hunt any legal species independently with no age restriction. Each youth may register for the MY Hunting Program once only.
Once Mentors receive a Mentor Number or have a state-issued hunter education number, they do not need to re-register in the program.
For information, telephone toll-free: 1-888-248-6866.