Learn more about fishing for New Mexico state cold water fish species Trout and Salmon, with specific information for trout and salmon. See also Gila Trout Recovery & Angling.
Brook Trout
Brook trout are uncommon in New Mexico. Most brook trout populations occur in smaller and more difficult to access streams around the state. Two of the more easily accessible streams to consider include Cabresto Creek above Questa and Tecolote Creek near Las Vegas.
Brown Trout
Several wild populations of brown trout occur throughout New Mexico. The Rio Grande Gorge supports a thriving population of brown trout in a wild setting. Other streams include the Rio Guadalupe in the Jemez and the Cimarron River below Eagle Nest Dam.
Gila Trout
See the Gila Trout Recovery and Angling page.
Lake Trout
In the 1980's, lake trout were introduced at Heron Lake and since have established a self-sustaining population. Fishing is usually best during spring and fall months. Low water levels are anticipated in 2014 and may impact access.
Rainbow Trout
NMDGF stocks rainbow trout in a number of waters to provide angling opportunity. The Albuquerque area drains and Tingley Beach are stocked weekly during the winter months. Many of the streams were affected by fires, but Red River, San Juan River and Cimarron River should provide good opportunities for rainbow trout.
Rio Grande CutthroatTrout
See the Rio Grande Cutthroat Trout section under Native New Mexico Fish.
Kokanee Salmon
Low reservoir levels are anticipated at Heron Lake this year and expected to impact kokanee fishing. Navajo Lake may provide a more favorable alternative for trolling during the 2014 season. Eagle Nest Lake also is stocked every year with kokanee and should provide good trolling.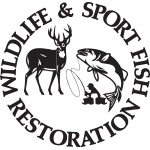 Sport Fish Restoration Act
A 10-percent federal excise tax on your purchase of fishing equipment and motor boat fuel helps states individually promote sport fisheries. This includes acquiring easements or leases for public fishing, funding hatchery and stocking programs, supporting aquatic education programs, and improving boating facilities for anglers.