Hunter Education provides an educational opportunity that enables students to safely participate in a hunting or shooting sport.  Hunter education and its corps of volunteer instructors strive to produce safe, ethical and responsible students who will be tomorrow's hunters and shooters.
No one under 18 years of age may hunt with a firearm without first possessing a certificate proving that he/she has passed this, or another state's hunter education course or is currently enrolled in the New Mexico Mentored-Youth (MY) Hunting Program. Uncertified juveniles may shoot firearms if under adult supervision or in a supervised program.
It is also unlawful for anyone under 18 to apply for, or buy, any type of firearms hunting license before passing a hunter education course unless the youth is registered in the New Mexico MY Hunting Program. Youth hunters must have proof of passing a state certified Hunter Education course and/or have a current MY number in their possession while hunting.
Bowhunter education is not mandatory for archery hunts, but is highly recommended.
There is now an online hunter education option. This course will be done entirely online. The online hunter education course certification will be recognized in all 50 states. The online course option is for New Mexico residents 11 years of age or older ONLY. Online students are required to pay $19.50 through an approved, outside provider. Online students must pass all chapter quizzes and the final exam to earn their New Mexico hunter education number. Click here to visit hunter-ed.com.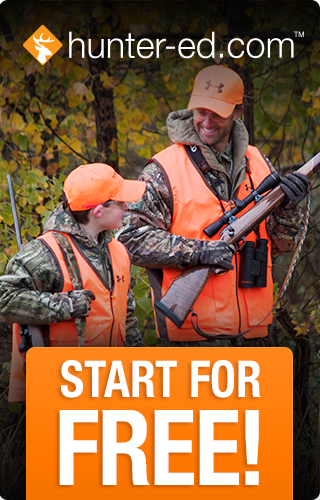 The New Mexico Hunter Education program will still be offering in-person student courses for those who do not qualify for the online course and those who would prefer to take the in-person course. See our course schedule for upcoming dates.
New! The New Mexico Department of Game and Fish is hosting a Hunter Education Camp at Camp Wehinahpay in the Sacramento Mountains, August 5 – 7, 2016. This FREE unique Hunter Education course opportunity is open to youth 11 years of age and older who have not yet passed hunter education. Youth must have at least one adult register, attend and participate with them to qualify.
Youth, along with a registered adult, will camp on site, have meals provided Friday dinner through lunch on Sunday, and have the opportunity to earn their hunter education certification through hand's-on techniques and skill-building activities. Additional live fire activities will include shooting .22 rifles and archery. Instruction during the camp will be provided by Department staff and certified volunteer hunter education instructors. Registered youth and adults must complete a homework requirement prior to camp. The homework can be downloaded for free at hunter-ed.com/newmexico/manual/or a hardcopy can be requested by calling (505) 222-4731. Participants will also need to bring their own camping equipment (tents, sleeping bags and/or RV's) for this opportunity.
Registration will open for 20 slots on Tuesday, July 5 at 9am. The registration form will be available here for download. Slots will be filled on a first come basis.
Questions: Contact the Department's Hunter Education Office at 505-222-4731.
Hunter Education Camp Flier 8-2016 Wehinahpay
Virtual Hunting Scenarios
Test your hunter ethics and responsibility through this interactive shoot/don't shoot "game". This activity focuses on the importance of waiting for an animal to give you the best angle for proper shot placement.
Click to open in a new browser window: https://www.hunter-ed.com/shoot-or-dont-shoot.html.
Flash player software is required to view the video. We recommend Adobe's free Flash Player software. To download this program for free, visit the Adobe website.(https://get.adobe.com/flashplayer/)
To obtain a copy of your New Mexico hunter education number, log into your
New Mexico Online License System
account and print your Customer Id Number card. Your Hunter Education number will appear under your Customer Id Number on the card.
If you have trouble printing your card or accessing your account, please contact the Hunter Education Program Office via email or call (505) 222-4731
Please contact a member of  the Hunter Education Program Staff.
Kari Boynton
Office Manager
Phone: (505) 222-4731
Megan Otero
Assistant Coordinator
Phone: (505) 222-4733
Jennifer Morgan
Coordinator
Phone: (505) 222-4722
Click Here to email the Hunter Education Program.