New Mexico Hunter and Bowhunter Instructor Information
The Department of Game and Fish is always seeking individuals statewide to become certified Hunter and Bowhunter Education Instructors to teach student classes, assist with hunter education camps and other department outreach events.
The goal of hunter and bowhunter education is to reduce hunting related accidents and violations; promote safe, responsible and knowledgeable hunting; and enhance hunting traditions and values. Hunter and bowhunter instructors are volunteers who devote personal time and effort to ensuring the passing on of our hunting heritage to the next generation of safe, ethical hunters.
One of the reasons that the department's educational programs are so successful is due to the commitment and devotion of the volunteers who support them. We recognize that each instructor provides invaluable skills and expertise. They enable the department to provide the community with a wonderful opportunity and quality service. You can be crucial to the success and continuation of the Hunter and Bowhunter Education Programs and we appreciate you for considering joining our team!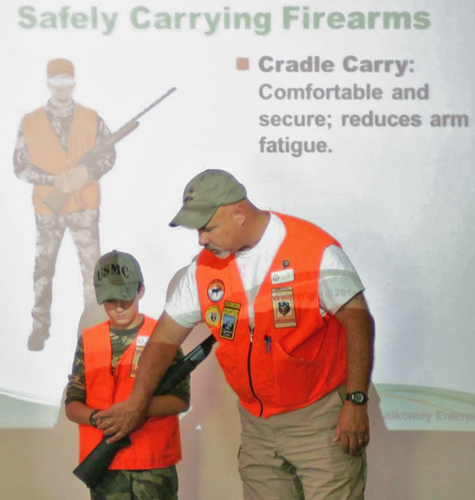 This webpage is a resource you can locate scheduled instructor workshops, trainings and pertinent information. You will also find updates that may affect you, your teaching team and your classes.
Becoming a certified hunter and/or bowhunter instructor with the department is EASY! Just complete the following steps:
1. Submit the Volunteer Application and Background Check.
2. View and complete the Pre-workshop training.
3. Sign up for next available Instructor Training Workshop (see schedule below).
4. Complete a New Mexico Hunter Education Student Course if you have not already done so.
Once you've completed all the above steps, you will receive certification from the department and will be qualified to teach or assist with classes and additional department outreach events. Call a member of the Hunter Education staff (see below) if you have questions. Thank you for your interest in giving back!
Upcoming Instructor Workshops and Program Events
Updated 08-13-2018
(Note: If no workshops listed, please check page in future. Calendar is updated as scheduled).
Current posting reflects confirmed dates of available workshops. Any posting that has a blue hyperlink to a workshop flier will also be available for registration using your Department CIN Account (
Click Here
to register). A posting that does not have a hyperlink is awaiting confirmation of facilities and/or locations and is not yet available for registration. Once confirmation is received, the posting will be updated and the workshop will be open for registration.
Important Instructor Updates
Instructor Requirement Updates
The department would like to inform all instructors of some upcoming changes and initiatives that will roll out at the first of the new year. Please click here for all the important details.
R3 – What is it?
R3 stands for Recruitment, Retention and Reactivation. Why it is important to put so much emphasis on recruitment, retention and reactivation? To summarize Education and Information Division Chief, Lance Cherry's presentation, it is because we have a vested interest in increased participation in hunting and shooting sports. A majority of conservation and education funding in this country is provided through purchases of hunting licenses and excise tax on firearms, ammunition and shooting sports equipment. It is important to evolve to increase the effectiveness of outdoor education and mentored hunt opportunities for people of all ages, genders and abilities to replace the hunters and anglers we are losing.
Learn more about the R3 movement and its importance by joining the R3 Community: click here. Through this link you can join this professional group comprised of agency professionals, non-governmental organizations (NGO's), volunteers and others. The R3 Community is a communication and collaboration depot for recruiting, retaining and reactivating hunters, anglers and recreational shooters.
You can also learn more on how the R3 movement works and what brought it forward by reading the National Hunting and Shooting Action Plan.
Spanish Hunter Education Manuals
The Hunter Education Manual is now available in Spanish. Contact the Hunter Education office if you should need a copy.
Training Tips and Continuing Education
Web links to articles and videos that may assist instructors in keeping up with new trends and techniques in hunting and shooting will be posted here frequently. If you take time to review any these videos, please contact the hunter education office and let them know the date(s) you reviewed the material and which training modules you viewed; this time counts toward your instructor Continuing Education credits to achieve Senior/Master Instructor benchmarks and to be eligible for additional instructor incentives.
Public Speaking without Fear and Anxiety – by Dave Oakes. This two hour online training follows a workbook (see pdf download below) and will show you how to overcome the greatest obstacle in any communication situation: nervousness. In addition, the training will help you with planning your course presentations, controlling the teaching environment and the psychology of a great delivery.
Public Speaking Without Fear and Anxiety
This training is also available for check-out in DVD format from each area Game and Fish Office. This training counts toward your required continuing education hours each instructor must fulfill to maintain their active status with the Program. Upon completion of this seminar, please contact a member of the Program staff to receive credit.
Instructors must view at least 30 minutes of the below online training segments to receive Continuing Education credits to achieve Senior/Master Instructor benchmarks and to be eligible for additional instructor incentives. If you take time to review any of these online segments, please contact a member of the hunter education staff and let them know the date you reviewed the material and which segments you viewed to receive credit.
Rifle Maintenance – Cleaning the Bolt – In this shooting tip Jeremy Winters address how to clean the bolt on a bolt action rifle. (Gunwerks Video- 4:44)
FREE Online Trapper Education – The Association of Fish and Wildlife Agencies has developed a free online trapper education course that state agencies and other organizations can use to train and certify trappers.  The online course covers all of the AFWA-approved national standards and learning objectives for trapping in North America. The site also features Best Management Practices for trapping 20 species of furbearers.
Shooting Positions in the Field – NSSF Shooting Sportscast For those times when the prone position is not an option, former Army Ranger sniper team leader Ryan Cleckner discusses alternate shooting positions to make sure you are as stable as possible. (NSSF Video – 7:14)
Shooting at Angles: Rifle Shooting Technique – NSSF Shooting Sportscast When shooting at angles gravity affects your bullet differently. Learn from NSSF's Ryan Cleckner how to apply an angle to correctly compensate for bullet drop when shooting either uphill or down. (NSSF video)
Treestand Safety Video.  This video addresses the universal safety requirements instituted by the Treestand Manufacturer's Association and the National Bowhunters Education Foundation, as well as updated information about self-rescue, tower stands, and safety tethers. (Approx. 27 minutes)
How to Shoot Trap – NSSF Shooting Sportscast. OSP Shooting School's Gil Ash explains how he approaches each station on a trap field. By knowing the proper hold points and focal points for each station you can greatly improve trap shooting. This tutorial also offers tips that can make you more successful at any shotgun sport or while afield. (NSSF Video – 13:51)
Big Game: What Happens Between Shot and Down -Big game that drops instantly to a shot is cause for concern, as Wayne van Zwoll explains in this eye-opening article. (Gun Digest Article)
Understanding Gun Fit – NSSF Sportscast Gil Ash of OSP Shooting Schools explains what the three key measurements gunfitters consider when properly fitting a shotgun. Does your shogun fit? Find out how you can tell. (NSSF Video – 4:55)
Dove Hunting Tips – NSSF Sportscast Join NSSF's Doug Painter on the Dove field for a few pointers that will help ensure your success this season. (NSSF Video – 3:24)
Get Ready for Turkey Season: Tips on Gear and Tactics – NSSF Sportscast Veteran Turkey Hunter and author of "Secrets of the Turkey Pros," Glenn Sapir of the National Shooting Sports Foundation shares his go to gear for a turkey hunt. (NSSF Video-5:32)
Fall Calling Strategies: Calling All Turkeys – Shane Simpson shares some calling tips to help ensure success in the field during your fall turkey hunts. Did you know you can target gobblers, hens and young turkeys simply by changing your calls? Watch, listen and learn. (NSSF Video – 6:48)
Pattern Your Turkey Shotgun: Hunting Tip – While turkeys are typically shot when standing still, keep in mind that the bird's head/neck area represents a small target, especially out at forty yards. The key in patterning your turkey shotgun is to be sure you have an adequate pattern density at typical turkey hunting ranges. Watch this video on patterning your turkey gun and then head out to the range to be sure your choke/load combination is on target. (NSSF Video – 5:04)
Dog Training Tips: Using the Correct Correction – Wingshooting USA Host Scott Linden shares a tip about dog training. Watch and learn when the right correction is no correction at all. (NSSF Video – 2:09)
Dog Training Tips: Change it up to Avoid Training Scars – Wingshooting USA TV host Scott Linden shares some sage advice for dog trainers. Change it up and keep it fresh to keep your dog sharp. (NSSF Video – 1:49)
Intro. to Range Safety and Etiquette – For many that first trip to the shooting range can be intimidating. This short video is a great introduction to firearms safety rules and etiquette at the indoor range and for experienced shooters a great reminder. Remember, firearms safety depends on you. (NSSF Video – 8:48)
To open each form, just click on the one you need then save it to your computer for future use.
Instructor Application and Background Consent Forms
All Hunter and Bowhunter Education Instructors with the New Mexico Department of Game are required to have a completed Instructor Application on file and must have passed a background check. These forms are available by clicking one of the links below. Please contact the hunter education office if you should have any questions or are unable to print the required forms.
Instructor Monthly Updates
Check back for updates.
Check back frequently for department sponsored programs and outreach events.