NMDGF Conservation Education Program
The NMDGF Conservation Education Program provides a comprehensive, interdisciplinary fish and wildlife conservation education program to assist students of any age in developing the awareness, knowledge, skills and commitment to stewardship of New Mexico's wildlife and wildlife habitats.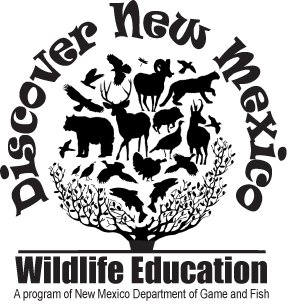 Wildlife Curriculum for New Mexico
The Conservation Education team is finishing a New Mexico Wildlife Education curriculum for upper elementary through middle school grade levels, correlated to Common Core State Standards, current NM Science Standards and Next Generation Science Standards. Learn more.
Future workshops are being planned at this time. Contact us for details.
Wildlife Conservation in New Mexico
Our Mission: To provide and maintain an adequate supply of wildlife and fish within the state of New Mexico by utilizing a flexible management system that provides for their protection, conservation, regulation, propagation, and for their use as public recreation and food supply.
Conservation Wildlife PDF Presentation with Notes
Wildlife Conservation Powerpoint Presentation (PPT)
Classroom Presentations with colorful slide show on New Mexico wildlife and wildlife conservation is available statewide. Presentations include hands-on discovery critter boxes with wildlife skins, skulls and more. Presentations are given by Conservation Officers, and staff from the Information and Education Division.
The Department offers numerous educational opportunities, including detailed Species Information, Wildlife Trunks for teachers and a variety of Wildlife Posters. Learn more.