WARMWATER HATCHERY'S FIRST BASS STOCKED IN ELEPHANT BUTTE LAKE
SANTA ROSA -- The first 77,000 largemouth bass raised in New Mexico's new warmwater fish hatchery swam into history Tuesday when they were released in Elephant Butte Lake.
The bass paved the way for many future stockings as Rock Lake Hatchery near Santa Rosa uses its 11 new one-acre ponds to raise bass, catfish, walleye, bluegills and other warmwater fish species.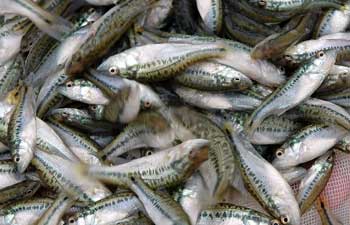 "This is an exciting time for the hatchery and for the state's anglers who enjoy catching warmwater fish," hatchery Manager Leonard Rice said. "This also is a learning experience for us because we've never done this before."
The bass were hatched at the Las Animas Hatchery in Colorado and arrived at Rock Lake on June 13 when they were about ½ inch long. A steady diet of zooplankton helped the fish grow to about 1 ½ inches. Warmwater Fisheries Biologist Casey Harthorn said the bass should grow to 14 inches in two to three years.
The $4 million first phase of the warmwater hatchery project was completed last fall. Since then, hatchery crews have been working to create pond environments suitable for raising a variety of fish species. Fish are placed in the ponds once the water is producing enough phytoplankton and zooplankton that the fish need for nourishment and growth. Once the fish eat all the available zooplankton, they are removed from the ponds and stocked in one of the state's lakes.
The Rock Lake Hatchery ponds also currently hold about a million catfish that should be ready for stocking later this summer, Rice said.
Funding for the first phase of hatchery construction included $2.5 million from the state Game Protection Fund, which comes from hunting and fishing license sales; $900,000 in federal grants; and $300,000 from the state's General Fund, authorized by the 2004 Legislature.
In operation since 1964, Rock Lake Hatchery also is one of the state's top producers of catchable-sized rainbow trout. With its constant flow of 3,500 to 4,000 gallons of cool, clear spring water per minute, the hatchery raises about 300,000 trout a year in its raceways for stocking in the state's streams and lakes. The hatchery also raises about 20 million walleye every year, about half of them from eggs collected from Conchas and Ute reservoirs. The hatchery welcomes visitors at its facilities two miles south of Santa Rosa along the Pecos River. Hours are 8 a.m. to 5 p.m. every day.
###