KOKANEE SALMON SNAGGING SEASON OPENS NOV. 14 AT HERON LAKE
WOLF RELEASE SCHEDULED NOV. 6 IN GILA NATIONAL FOREST
DEPARTMENT SEEKS PUBLIC COMMENTS ON ANTELOPE PLAN
MEETING WILL ADDRESS NEW MEXICO'S DESERT BIGHORNS
KOKANEE SALMON SNAGGING SEASON OPENS NOV. 14 AT HERON LAKE
LOS OJOS, N.M. -- Snagging season for kokanee salmon opens at 12:01 a.m. Nov. 14 at Heron Lake, Willow Creek and the Pine River above Navajo Lake. The Department published conflicting opening dates in the 2008-2009 Fishing Rules & Information Booklet. According to state fishing rules, the opening date always is the second Friday in November.
Kokanee snagging season opened Oct. 1 at Navajo Lake, Abiquiu Lake, El Vado Lake, Eagle Nest Lake and the Chama River from El Vado Lake to the west boundary of the Rio Chama Wildlife and Fishing Area. The season ends Dec. 31 in all waters statewide. The bag limit is 12 salmon per day, 24 in possession.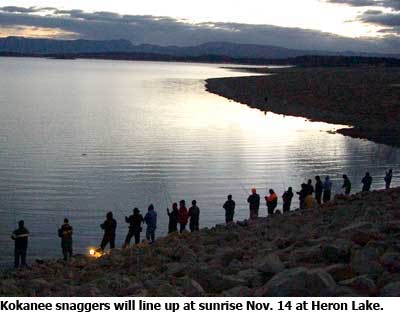 Some waters open later than others for kokanee snagging to give fisheries crews time to harvest and fertilize eggs that will be hatched and raised for future stockings. Kokanee are land-locked sockeye salmon that thrive in New Mexico's cool lakes. In late fall, mature 4-year-old kokanee form giant schools, spawn and then die.
Because the fish do not feed during the spawn, snagging is allowed to harvest them. Anglers are reminded that only kokanee may be taken by snagging. Any other species caught by snagging must be immediately returned to the water.
For more information about kokanee snagging and fishing in New Mexico, please visit the Department Web site, www.wildlife.state.nm.us, or call (505) 476-8000.
WOLF RELEASE SCHEDULED NOV. 6 IN GILA NATIONAL FOREST
BEAVERHEAD, N.M. -- Male wolf 922 is scheduled for return to the wild Nov. 6, the Mexican Wolf Reintroduction Project announced today.
The wolf was born in New Mexico in 2005, and his release is intended to increase the wolf population in the Gila National Forest and help the Interagency Field Team locate female wolves in the forest. The team will be flying its annual helicopter population count and capture in January.
"We are hoping he'll be able to find any female wolves in the area that aren't currently wearing radio collars," said Ellen Heilhecker, wolf biologist for the New Mexico Department of Game and Fish. "Of course that means he also has the potential to create another breeding pair in New Mexico."
The Reintroduction Project is a multi-agency cooperative effort among the Arizona Game and Fish Department, New Mexico Department of Game and Fish, USDA Forest Service, USDA-Animal and Plant Health Inspection Service, Wildlife Services, U.S. Fish and Wildlife Service, and the White Mountain Apache Tribe.
DEPARTMENT SEEKS PUBLIC COMMENTS ON ANTELOPE PLAN

ALBUQUERQUE -- The New Mexico Department of Game and Fish will conduct two meetings in northwestern New Mexico to gather information and comments from landowners and the public about proposed changes to the Antelope Private Land Use System (A-PLUS).
The meetings will be from 6 to 8 p.m. Nov. 12 at the Torrance County office building, 209 Ninth Street in Estancia; and 6 to 8 p.m. Nov. 13 at the Cibola County office, 515 West High Street in Grants.
A-PLUS is used to determine the number of antelope hunting opportunities available on public and private lands. Sportsmen's groups, landowners and others are encouraged to attend.

(back to top)

MEETING WILL ADDRESS NEW MEXICO'S DESERT BIGHORNS
TRUTH OR CONSEQUENCES -- The New Mexico Department of Game and Fish will conduct a public meeting Nov. 13 in Truth or Consequences to discuss the history, status and future of desert bighorn sheep recovery efforts in New Mexico.

The meeting will be at 6:30 p.m. Nov. 13 at the City Commission Chambers in the Civic Center Complex, 405 W. Third, in T or C.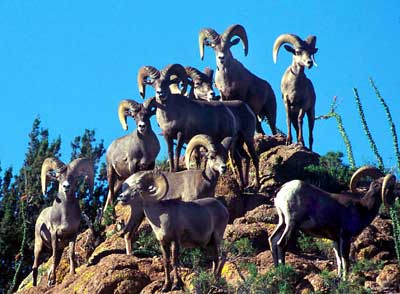 Desert bighorns were placed on the New Mexico endangered species list in 1980, and by 2001 there were fewer than 170 bighorns in herds statewide. Transplants, cougar control and monitoring helped increase the population to more than 400 this year, prompting a proposal to downlist the bighorns' status from endangered to threatened.
The first bighorn sightings in the Caballo Mountains were in 2003 when sheep apparently migrated south from the Fra Cristobal Mountains east of Elephant Butte Lake. A 2008 survey counted 24 bighorns in the Caballos, but the survey covered only part of the mountains, so there could be more.
To further efforts to eventually delist the species, the Department is considering options to augment the existing Caballo bighorn herd with future transplants. Department biologists will be available at the meeting to discuss the possibility and how it may benefit surrounding communities.
For more information about desert bighorns in New Mexico, please visit the Department website, www.wildlife.state.nm.us and click on the conservation tab. Information also is available by calling Bighorn Sheep Biologist Elise Goldstein, (505) 476-8041.
###