FISHING SEASON'S HERE! DON'T FORGET YOUR NEW LICENSE
LOW-FLYING HELICOPTERS ASSIST PRAIRIE CHICKEN SURVEYS

FISHING SEASON'S HERE! DON'T FORGET YOUR NEW LICENSE
The weather's great, the streams are clear and the lakes are free of ice – just in time for this weekend's unofficial opening of fishing season in New Mexico. Anglers are reminded to purchase a new fishing license before hitting the waters Sunday, April 1, the start of the 2012-13 license year.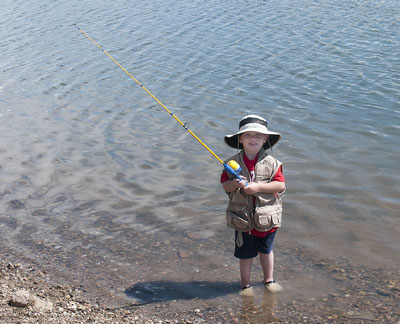 Licenses are available now at more than 170 vendors statewide and at Department of Game and Fish offices in Santa Fe, Albuquerque, Raton, Roswell and Las Cruces. Popular season resident licenses cost $25 for adults, $5 for youths ages 12-17, and $8 for seniors ages 65-69. Licenses are free for anglers ages 70 and older. Combination hunting and fishing, and discounted licenses for disabled and military anglers also are available.
Licenses also are available on the Department website, www.wildlife.state.nm.us.
Some fishing hot spots, according to the most current fishing reports:

Eagle Nest Lake: The banks are clear of ice, which usually means great fishing for trout and perch on Power Bait, worms and salmon eggs. Some northern pike have been caught on various lures, and anglers are reminded that they are encouraged to catch and keep all the pike they want.
Storrie Lake: Trout fishing has been very good with salmon peach Power Bait and salmon eggs. Several anglers have reported catching their limits.
Fenton Lake: Much of the ice has cleared around the bank and trout fishing has been very good for anglers using yellow Power Bait and corn.
Bonito Lake: Expect a crowd for Sunday's season opening, but also expect the trout fishing to be hot. Try worms, Power Bait and salmon eggs.
Spring turkey hunters can purchase their licenses at vendors or online in preparation for the April 15 season opening. Beginning this year, resident hunters are required to purchase a $15 Game-hunting or $30 Game-hunting and Fishing license before purchasing a $25 turkey license.
More information about New Mexico's 2012-13 fishing season is available in the Fishing Rules & Information Booklet, which can be found at license vendors statewide, Department offices and online at www.wildlife.state.nm.us.

(back to top)

LOW-FLYING HELICOPTERS ASSIST PRAIRIE CHICKEN SURVEYS
PORTALES – Landowners in eastern New Mexico may see low-flying helicopters this spring as state wildlife agencies conduct a large-scale aerial survey of lesser prairie chicken booming grounds across the High Plains region.
Helicopters will fly at 35 to 40 mph about 80 feet above ground over 200 85-square-mile blocks of property in and around the estimated range of the species in New Mexico, Texas, Oklahoma, Kansas and Colorado. Flights were scheduled to begin around March 30 and to conclude in mid-May. Towns, feedlots and houses will be avoided, and pilots will make special efforts to avoid disturbing livestock.
The New Mexico Department of Game and Fish will join wildlife agencies from Texas, Oklahoma, Kansas, and Colorado, West Ecosystems, Inc., and Texas Tech University in the survey. The lesser prairie chicken is under consideration for listing under the Endangered Species Act by the U.S. Fish and Wildlife Service.
"These surveys will allow state fish and wildlife agencies to monitor population trends of the species range-wide," said Grant Beauprez, the Department's Portales-based lesser prairie chicken biologist. "The data, combined with other ongoing conservation efforts, will help the U.S. Fish and Wildlife Service make a decision about whether to list the species."
Information from the surveys also will be used to help conserve the bird in partnership with landowners and private industries, including oil and gas, wind energy and electric utilities.
For more information about the surveys, please contact Beauprez at (575) 478-2460, grant.beauprez@state.nm.us; or Joseph Sands, the Department migratory bird, wild turkey and small-game program coordinator at (505) 476-8161, joseph.sands@state.nm.us.
###