YOUNG ARCHERS PUT THEIR SKILLS ON THE LINE AT STATE TOURNAMENT
FREE ONLINE HUNTER EDUCATION COURSES, MANUALS OFFERED
SHARE WITH WILDLIFE PROGRAM ACCEPTING PROJECT IDEAS FOR FUNDING
YOUNG ARCHERS PUT THEIR SKILLS ON THE LINE AT STATE TOURNAMENT
ALBUQUERQUE – More than 150 young archers representing schools from across New Mexico will test their skills learned through the National Archery in the Schools Program when they gather Saturday in Albuquerque for the fourth annual NASP State Tournament.
Fifteen-member teams representing at least 10 schools will begin competition at 8:45 a.m. at the National Guard Armory, 600 Wyoming Blvd., NE. Competition will conclude at about 2:30 p.m., followed by an awards ceremony. Admission is free for spectators.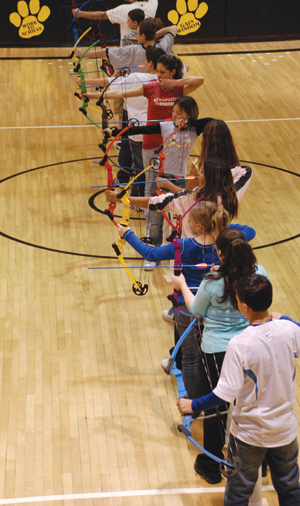 Archers will shoot 15 arrows at 80-centimeter targets 10 meters away, and 15 arrows at targets 15 meters away.
This is the fourth year the Department of Game and Fish has coordinated the National Archery in the Schools program in New Mexico.

It costs about $3,000 to outfit a school or organization with bows, targets, backstops and other equipment to get a program started. The Department splits the initial cost with schools and provides training for archery instructors. Many schools incorporate the program into existing physical education classes. The program currently is in 55 schools across New Mexico. Another 45 schools are scheduled to start the program as soon as they receive equipment and training.

Schools or organizations interested in participating in the National Archery in the Schools program can find more information by contacting Brian Guzman, (505) 231-4375 or brian.guzman@state.nm.us.
FREE ONLINE HUNTER EDUCATION COURSES, MANUALS OFFERED
SANTA FE – Young hunters and others who need to complete a hunter education course to be eligible to hunt in New Mexico and many other states now have another free option to help them.
The Department of Game and Fish and Huntercourse.com are offering a free online manual and interactive hunter education course that qualifies as the homework requirement for the New Mexico course. The department spent $20,000 to provide the online course and manual to students at no charge through April 30, 2013. It is one of two online courses offered on the Department website, www.wildlife.state.nm.us. The second course, through Hunter-Ed.com, costs $24.50.
New Mexico law requires anyone younger than age 18 to have successfully completed an approved hunter education course before hunting with a firearm or bow or applying for a firearm or bow hunting license.
The department offers two types of hunter education courses: an accelerated eight-hour course for students ages 11 or older, and a standard course that includes 16 hours of class time. Both courses require students to have read the manual and have completed the online or paper homework assignment before the class begins.
Registration for all classes is online through the department website by clicking on the "Hunter Education" button on the home page. Students will be assigned a free customer identification number, which is required to register for all classes. The same number is required to buy hunting, fishing or trapping licenses online or to apply for any of the Department's special drawing hunts.

Students can acquire free hard copies of the manual at department offices or other specified locations following registration.

Students without Internet access can get customer identification numbers and register for hunter education classes at Department offices in Santa Fe, Albuquerque, Raton, Roswell and Las Cruces during regular business hours.

For information about the Hunter Education Program please call (505) 222-4731.

(back to top)

SHARE WITH WILDLIFE PROGRAM ACCEPTING PROJECT IDEAS FOR FUNDING
SANTA FE – Share with Wildlife, a Department of Game and Fish program that funds wildlife in need, especially nongame wildlife, is accepting proposals for project ideas for funding consideration during the 2012-13 fiscal year.
Proposals will be accepted through June 1 for projects that benefit New Mexico wildlife through biological and ecological studies, conservation education, habitat conservation, and wildlife rehabilitation. Proposals will be considered for projects that begin from January through June 2013, and run for 12 months or less. Multi-year projects may be implemented through annual re-submission to the Share with Wildlife call for proposals. No matching funds are required.
Details about the types of projects eligible for funding, and how to apply are available on the department website, www.wildlife.state.nm.us. For more information, please contact the program coordinator, Chuck Hayes, chuck.hayes@state.nm.us or (505) 944-5477.
Share with Wildlife is a program of the New Mexico Department of Game and Fish, supported exclusively by donations. Its mission is to assist all New Mexico wildlife in need, no matter what species. The program is particularly committed to helping those species that do not receive funding from any other source, including many endangered and threatened species. In the 2011-12 fiscal year, the program spent $165,000 funding 28 projects.
Share with Wildlife was initiated by the state legislature in 1981. The program was created to "provide additional wildlife funds to perpetuate the renewable wildlife resource of New Mexico that gives so much pleasure and recreation to all New Mexicans." The means established for collecting these additional funds was a "check-off" on the state income tax form for those who receive a refund. Share with Wildlife receives most of its funding through the state income tax check-off and federal grants, but also accepts mail-in contributions.
###