AZTEC OFFICER NAMED WILD TURKEY FEDERATION OFFICER OF THE YEAR
ALBUQUERQUE – Department of Game and Fish Conservation Officer Storm Usrey has been named National Wild Turkey Federation Wildlife Law Enforcement Officer of the Year for 2013.
Members of the nonprofit conservation organization present the annual award to top officers in each state based on wildlife law enforcement cases, public relations, attitude and professionalism.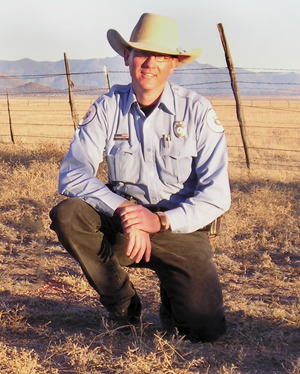 "Officer Usrey's dedication and commitment to improve wild turkey management led him to create a 25-question survey that allowed the department to determine harvest success and satisfaction of turkey hunters in Game Management Unit 17," said Ray Aaltonen, captain of Southwest Region for the department. "His knowledge and skills have been utilized in wild turkey capture operations to increase genetic diversity and distribution throughout the state."
Usrey was the Magdalena District officer at the time of nomination and has since moved to the Aztec District. He is the first Department of Game and Fish officer to receive the award. The announcement was made during the Wild Turkey Federation's annual state awards banquet in Albuquerque.
Usrey is eligible for the National Officer of the Year Award with 25 other nominees from various states. That award will be presented at the National Wild Turkey Federation National Convention and Sport Show Feb. 16 in Nashville, Tenn.
###