STATE GAME COMMISSION ELECTS CHAIRMAN
ALBUQUERQUE – Tucumcari rancher Scott Bidegain is the new chairman of the New Mexico Game Commission.
Bidegain, 33, was elected by the Commission at its March 21 meeting in Albuquerque. He succeeds Jim McClintic as chairman. McClintic died Feb. 15 after a battle with cancer.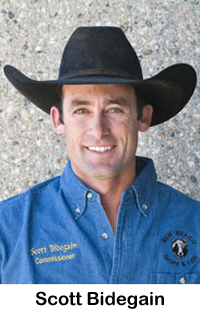 The Commission unanimously re-elected Thomas "Dickie" Salopek of Las Cruces as vice-chairman. Other Commission members are Tom Arvas and Paul Kienzle of Albuquerque, Robert Espinoza of Farmington and Bill Montoya of Alto. A seventh member of the Commission will be named by Gov. Susana Martinez.
Bidegain works at T4 Cattle Company, a family-owned and operated cattle ranch. He also serves on the New Mexico Cattle Growers Association Board of Directors. He holds a Bachelor of Business degree in Accounting and a Bachelor of Arts degree in General Studies from West Texas A&M University. His term on the Commission expires Dec. 31, 2014.
The State Game Commission is composed of seven members who represent the state's diverse interests in wildlife-associated recreation and conservation. Members are appointed by the governor and subject to confirmation by the state Senate.
###