SHIKAR-SAFARI CLUB HONORS BEN BYRD AS WILDLIFE OFFICER OF THE YEAR
SANTA FE – Ben Byrd, a top conservation officer with the Department of Game and Fish, has been named New Mexico Wildlife Officer of the Year, a prestigious award sponsored by the conservation organization Shikar-Safari Club International.
Byrd recently was promoted to the position of captain of Field Operations. He oversees the department's investigative team, the Operation Game Thief program and supervises the revocation, training and recruiting programs.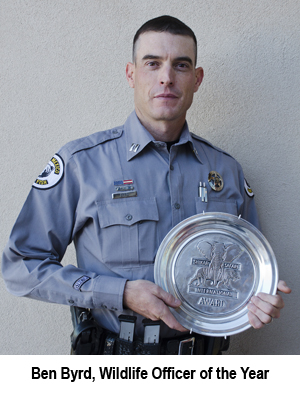 "Ben is one of the most dedicated and respected officers we have in the department," said Robert Griego, colonel of Field Operations. "He should be recognized not just for his exemplary law enforcement efforts, but also his outstanding game management skills."
Byrd has participated in numerous wildlife trapping and relocation projects with turkeys, deer and pronghorn antelope. He began his 11-year career with the department as a district officer in Clayton and Capitan. He was a sergeant in Alamogordo before his promotion to captain. He is stationed in Santa Fe.
Shikar-Safari Club International was founded in 1952 by an international group of hunters interested in exchanging ideas about the sport. Each year, the club sponsors an award for the Wildlife Officer of the Year in all 50 states, 10 Canadian provinces and the territories of both nations. Shikar-Safari is recognized worldwide for its efforts in the protection, enhancement and preservation of wildlife, and has placed particular emphasis on endangered and threatened species through the promotion of enforcement of conservation laws and regulations.
###