New Mexico Department of Game and Fish
Public contact, Information Center: (888) 248-6866
Media contact, Lance Cherry: (505) 476-8003
lance.cherry@state.nm.us
FOR IMMEDIATE RELEASE, MAY 7, 2019:
AIMS@UNM hits the mark at national tournament
SANTA FE – Capturing bronze and silver, New Mexico's National Archery in the Schools (NASP) high school division state champions, Albuquerque Institute for Mathematics and Science (AIMS@UNM) delivered the state's best national tournament showing since the program began in 2008.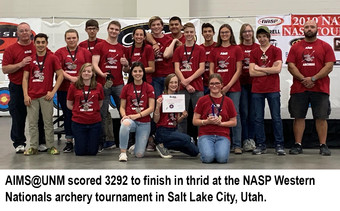 More than 1,250 top-ranked student archers from 156 schools competed in the NASP Western Nationals, April 27-28 at the Salt Palace Expo in Salt Lake City, Utah.
The AIMS@UNM team scored 3292 out of a possible 3600 in the high school division and pinned an amazing 146 bullseyes to clinch the third place finish. The team's standout archer, Sofia Apodaca, racked up 20 bullseyes and a score of 289 out of 300, to capture second overall in the individual female high school division.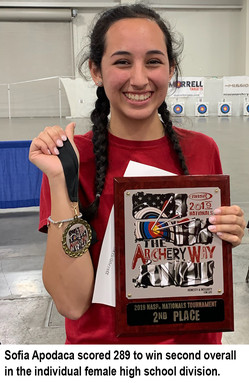 "AIMS@UNM's accomplishment is a testament to the hard work and dedication the students, coaches and parents put into New Mexico's NASP," said Michael Sloane, Director of the New Mexico Department of Game and Fish. "I'm extremely proud to champion a program that allows our youth to compete and win on a national stage."
Clovis Christian School finished fifth with a score of 2728 in the elementary division and James Monroe Middle School finished eighth with a score of 3223 in the middle school division.
Federal funding through the Wildlife and Sport Fish Restoration Program of the U.S. Fish and Wildlife Service makes NASP possible. The Pittman-Robertson Act of 1937 dedicates federal excise taxes collected from manufacturers of firearms, ammunition and archery equipment to national wildlife restoration programs, which include hunter education, shooting and archery programs in addition to wildlife surveys, transplants, and the purchase and management of wildlife management areas.
For complete list of tournament results please visit www.nasptournaments.org. For more information about the National Archery in the Schools Program and how your school can get involved, contact John Martsh, R3 program manager for the Department of Game and Fish at (505) 222-4719 or d.martsh@state.nm.us.
###