New Mexico Department of Game and Fish
Public contact, Information Center: (888) 248-6866
Media contact: Karl Moffatt: (505) 476-8007
karl.moffatt@state.nm.us
FOR IMMEDIATE RELEASE, APRIL 1, 2016:
Fishing season begins April 1; time to buy a new license Fishing rules and info
SANTA FE – A new fishing season begins April 1 in New Mexico and anglers are reminded to buy a new license before venturing out to their favorite waters.
The fishing license-year runs April 1 to March 31. Anglers can buy a new license online, over the phone or from a vendor. Starting this year, resident military veterans or active-duty members receive a 50 percent discount off their fishing license and stamps. New Mexico residents who are 100% disabled as a result of having served in the armed services will remain eligible for a free fishing license.
Fishing licenses cost $25 for state residents. Most anglers also are required to purchase a $4 Habitat Management and Access Validation Stamp. Anglers intending to fish on Bureau of Land Management (BLM) or U.S. Forest Service lands also will need a $5 federal Habitat Stamp.
Children younger than age 12 do not need a license to fish, and anglers age 70 and older qualify for a free license. Please consult the Fishing Rules and Information Booklet at www.wildlife.state.nm.us for more information. Printed versions are available from vendors or at New Mexico Department of Game and Fish area offices. Anglers also can call the department's Information Center at (888) 248-6866 during normal business hours for customer assistance or to purchase a license over the phone.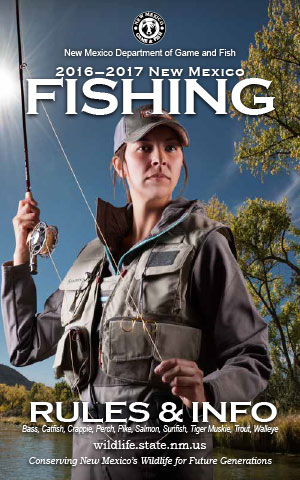 Anglers must have their license with them while fishing. For weekly angling and stocking reports, please visit
www.wildlife.state.nm.us
.
###