New Mexico Department of Game and Fish
Media contact: Clint Henson (505) 445-2311
Public contact: (888) 248-6866
clint.henson@state.nm.us
FOR IMMEDIATE RELEASE, SEPT. 11, 2015:
HUNTER ATTACKED BY BEAR NEAR WAGON MOUND BEAR AND CUB
RATON – Department of Game and Fish conservation officers are searching for a bear that attacked a 60-year-old man from Missouri who was elk hunting Thursday afternoon west of Wagon Mound.
The hunter climbed a tree to try to escape the attacking bear, but received bites to his foot through his boot when the bear climbed up after him. He was taken to the Alta Vista Hospital in Las Vegas, N.M., where he was treated and released.
Officers used dogs to search for the offending bear soon after the attack, but rain caused the scent to deteriorate and the bear was not found. A trap was set in the area. Officers will continue to search for the bear to test it for rabies. Bear hair was found at the attack site and will help in identifying the offending bear.
The hunter said he was eating lunch under a tree stand when a sow and cub came to the water hole where he was hunting. He took photographs and video of the bears before the attack and said he had seen five other bears that morning. The hunter fell 15 feet from the tree at one point but was able to climb back up. He also had a pistol and had fired a warning shot and four other shots from the tree at the bear, but it would not retreat. He radioed his guide to help him after the attack ended. The guide told officers that the hunter was nearly to the top of the 50-foot tree when he arrived.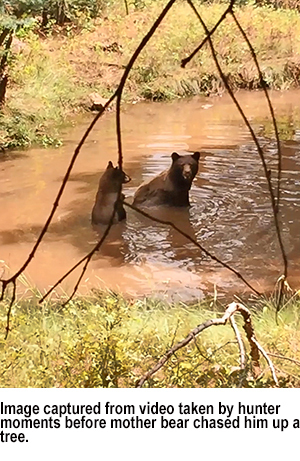 The incident was the fourth this year resulting in injuries and the second this week in which a bear attack resulted in injuries to a human. Wednesday, a female bear with a cub attacked a runner on a trail near Los Alamos. The runner was being treated at a Santa Fe hospital. The search for that bear was suspended Friday because dogs could not find a scent.
If you encounter a bear:
Stop, and back away slowly while facing the bear. Avoid direct eye contact, as the bear may consider that a threat. Do not run. Make yourself appear large by holding out your jacket. If you have small children, pick them up so they don't run.
Give the bear plenty of room to escape, so it doesn't feel threatened or trapped. If a black bear attacks you, fight back using anything at your disposal, such as rocks, sticks, binoculars or even your bare hands. Aim for the bear's nose and eyes.
If the bear has not seen you, stay calm and slowly move away, making noise so the bear knows you are there. Never get between a mother bear and her cubs.
If you live or camp in bear country:
Keep garbage in airtight containers inside your garage or storage area. Place garbage outside in the morning just before pickup, not the night before. Occasionally clean cans with ammonia or bleach.
Remove bird feeders. Bears see them as sweet treats, and often they will look for other food sources nearby.
Never put meat or sweet-smelling food scraps such as melon in your compost pile.
Don't leave pet food or food dishes outdoors at night.
Clean and store outdoor grills after use. Bears can smell sweet barbecue sauce and grease for miles.
Never intentionally feed bears to attract them for viewing.
Keep your camp clean, and store food and garbage properly at all times. Use bear-proof containers when available. If not, suspend food, toiletries, coolers and garbage from a tree at least 10 feet off the ground and 4 feet out from the tree trunk.
Keep your tent and sleeping bag free of all food smells. Store the clothes you wore while cooking or eating with your food.
Sleep a good distance from your cooking area or food storage site.
###