New Mexico Department of Game and Fish
Public contact, Information Center: (888) 248-6866
Media contact: Karl Moffatt: (505) 476-8007
karl.moffatt@state.nm.us
FOR IMMEDIATE RELEASE, June 1, 2017:
Illegal possession of elk antlers leads to stiff fine
SILVER CITY – A judge has ordered a Silver City man to pay the New Mexico Department of Game and Fish $4,000 for illegal possession of a set of trophy elk antlers.
Hidalgo County Magistrate Mark Thomas issued the judgement in a recent civil case against Michael C. Aguirre, 40, of Silver City, according to court records.
The case stemmed from a November 2015 traffic stop near Cliff, where Aguirre was questioned by game wardens about a trophy set of elk antlers found in the bed of his pickup. Aguirre told the officers he picked up the antler rack while deer hunting with his son. The antlers were still attached to part of the animal's skull and Aguirre was cited for illegal possession of game animal parts out of season. The 6X5 set of antlers also were seized.
"Shed antlers may be picked up year-round without a permit or license, but when we see antlers with the skull still attached in the back of a truck when there are no hunts for that species going on, we get suspicious," said Conservation Officer Jordan Duncan of the New Mexico Department of Game and Fish.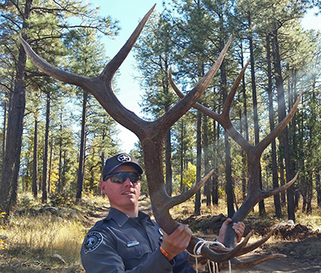 Antlers that include any portion of the animal such as the skull plate or head must be accompanied by proof of legal possession, such as the original hunting permit or tag, Duncan said.
After the local district attorney's office declined to prosecute the criminal case, Duncan filed it in magistrate civil court, where he won the judgement. Due to the trophy size of the elk head Officer Duncan was able to enhance the civil penalty to $4000.
Conservation officers may file a civil action in any court of jurisdiction for the trophy value of a game animal or bird provided that the evidence and information indicate that the game was killed or possessed out of season, taken with the aid of artificial light, taken without a proper license, exceeded the bag limit or resulted in waste of game.
"We're glad the state will be reimbursed for the loss of this trophy elk," Duncan said.
For more information about wildlife laws please visit the department's website, www.wildlife.state.nm.us.
###