Following is a selected project highlight from the Share with Wildlife mission to assist all New Mexico wildlife in need, no matter what species.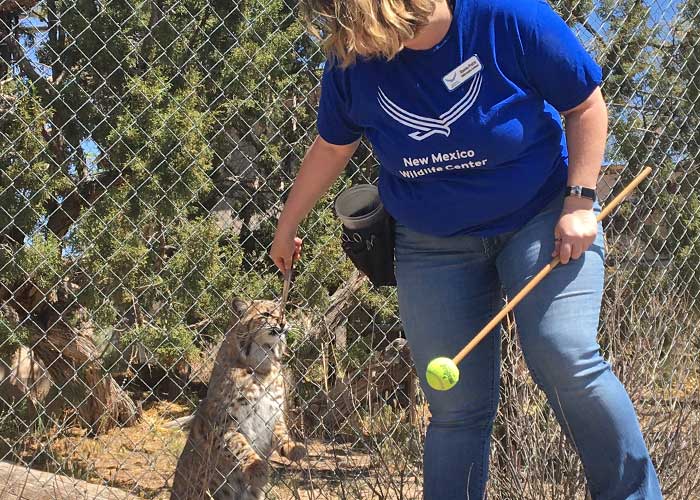 NMWC staff member works with bobcat education animal. (Ginny Seamster)
Looking for a fun, educational family outing on a Saturday? Want to learn more about New Mexico's wildlife? Have you found an injured or sick wild animal? The New Mexico Wildlife Center (NMWC) in Española can help. The Center has over 30 educational animals that you can see and learn about in self-guided tours. If you want more information about species habitats, adaptation, conservation, and biology, you can schedule a Raptor or Native Wildlife Program presentation for different age groups; all you have to do is call or email the Center. The Center also has a lovely native plant garden that they are continually working to expand and boasts many pollinator-friendly
The Center also has special educational events. One such special event was a celebration of Migratory Bird Day held in May, 2018. This event included flight demonstrations by, and educational presentations regarding, several of the educational animals at the Center, as well as feeding demonstrations, presentations on wildlife rehabilitation, and an artwork station. The Center also has a fully developed science curriculum that they present to students at several schools in northern New Mexico, including in the Española Valley. The curriculum is focused on river ecology and includes evaluation of water quality through measurements of both abiotic parameters (e.g., temperature and pH) and the local biotic community (i.e., macroinvertebates). Students sort through collections of aquatic insects, determining whether they are species that can tolerate pollution.
The Center also provides full wildlife rehabilitation services. If you live in northern New Mexico and you've found a wild animal that appears to be injured, ill, or otherwise incapacitated and may need help, call the Center first. Their staff is highly trained and knowledgeable about wildlife biology and health. They will be able to tell you whether it is appropriate to move the animal and either bring it to their facility or meet with a volunteer transporter somewhere in the middle if you live far away from Española.
Learn more about the non-profit 
Share with Wildlife
 program of the New Mexico Department of Game and Fish, supported exclusively by donations.