New Mexico Department of Game and Fish
Public contact, Information Center: (888) 248-6866
Media contact: Karl Moffatt: (505) 476-8007
karl.moffatt@state.nm.us
FOR IMMEDIATE RELEASE, JAN. 27, 2017:
Bighorn sheep biologist awarded prestigious honor
SANTA FE – New Mexico Department of Game and Fish bighorn sheep biologist Eric Rominger has been inducted into the Wild Sheep Foundation's Wild Sheep Biologist's Wall of Fame.
Rominger, Ph.D., is a 22-year veteran of the department. He received the honor Jan. 18 at the foundation's annual convention in Reno, Nev.
Rominger, 61, has been instrumental in the department's bighorn sheep recovery program, said Elise Goldstein, assistant chief of the department's Wildlife Management Division.
"He is a leader in his field, a wonderful person and very deserving of this honor," Goldstein said.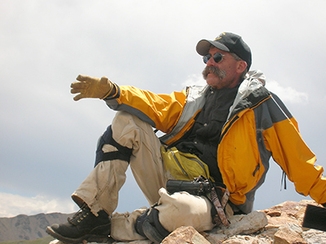 New Mexico's desert bighorn sheep population was nearly wiped out by market hunting, domestic livestock diseases and mountain lion predation. Fewer than 70 animals remained statewide by 1980, prompting New Mexico to add the desert bighorn to its endangered species list.
Today, transplanting efforts and cougar control have helped establish herds across southern New Mexico. By 2011 there were enough desert bighorn sheep in the state to enable their removal from the state endangered species list.
Rocky Mountain bighorn sheep had disappeared from New Mexico by the early 1900s. But the animals have since rebounded through efforts by the department with funds from hunters and conservation groups.
Hundreds of bighorn sheep have been transplanted across the state to establish herds while mountain lions have been brought under control to limit predation losses.
For more information about hunting for bighorn sheep in New Mexico, please visit the department website at www.wildlife.state.nm.us.
###