New Mexico Department of Game and Fish
Media contact: Karl Moffatt, (505) 476-8007
Public contact: Customer service (888) 248-6866
karl.moffatt@state.nm.us
FOR IMMEDIATE RELEASE, AUG. 11, 2015:
FREE FAMILY FUN AT N.M. OUTDOOR EXPO AUG. 15 & 16
ALBUQUERQUE – If you've wanted to learn to catch a fish, shoot a rifle, paddle a kayak or try your hand at archery, check out the Department of Game and Fish's annual New Mexico Outdoor Expo, a free family event at the Albuquerque Shooting Range Park 9 a.m. to 5 p.m. Saturday Aug. 15  and 10 a.m. to 4 p.m. Sunday Aug. 16.
"This is a great opportunity for families to enjoy some fun outdoor activities together," says Jessica Fisher, shooting program coordinator for the Department of Game and Fish. "And we'll be teaching folks basic skills that can lead to a lifetime of outdoor enjoyment."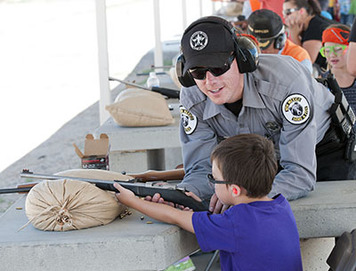 Shooting ranges staffed by certified instructors await participants wanting to learn or polish skills at .22-caliber rifle, pistol, shotgun, muzzleloader or archery events. Inside air-conditioned tents, department wildlife biologists will be available to answer questions about wildlife species, hunting and fishing opportunities and more.
All equipment for use during the event is provided free.
Those interested in fishing will find helpful staff and volunteers on hand to teach the basics of casting, knot tying and the use of bait and lures. Visitors can experience the thrill of catching and releasing a fish from artificial ponds. A 5,000 gallon aquarium full of sport fish will provide spectators the opportunity to see how they react to lures trailed through the water.
This year, guests can experience the thrill of duck hunting from a blind in the event's newest event. Other attractions include a rock climbing wall, kayak pond and atlatl throwing at 3-dimensional animal targets.
The exhibit hall will feature a variety of display exhibits by sporting and conservation organizations and information booths staffed by several state and federal conservation agencies. Guests will also find a good selection of food vendors outside the hall.
To get to the Albuquerque Shooting Range Park from Albuquerque, take Interstate 40 west to the top of Nine-mile Hill, exit and drive 4.2 miles north on Atrisco Vista, turn left at the park sign and drive 2.6 miles to the shooting range.
For more information about the event, please visit the department's website at www.wildlife.state.nm.us.
###