New Mexico Department of Game and Fish
Public contact, Information Center: (888) 248-6866
Media contact, Tristanna Bickford: (505) 476-8027
tristanna.bickford@state.nm.us
FOR IMMEDIATE RELEASE, MAR. 5, 2019:
Gallup conservation officer named Officer of the Year by Shikar-Safari Club
SANTA FE – Shikar-Safari Club International has named New Mexico Department of Game and Fish Corporal Storm Usrey the 2018 Wildlife Officer of the Year.
This highly prestigious award is given annually to a state officer whose efforts show outstanding performance and achievement among sworn conservation law enforcement personnel.
"In a field as demanding as wildlife law enforcement, I can say with certainty, Officer Storm Usery lives and breathes the conservation officer concept," said his supervisor, Sergeant Jeremy Smith. "He is second to none in customer service and the most professional officer I have worked with. Storm embodies professionalism and kindness beyond the duties of the job. His resume of good deeds is too long to list."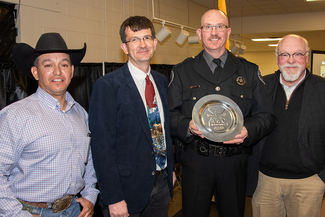 Educating youth is a passion for Storm, he volunteers for every opportunity that allows him to pass along his knowledge. In 2018, he took it upon himself to contact every school in his hometown of Gallup, New Mexico, where he presented on New Mexico's wildlife and visited with students about outdoor recreation opportunities. Storm did so, knowing that it wasn't expected of him, because of his desire to help youth get involved in the outdoors and interested in the world around them.
As a conservation officer, he is not known for being aggressive or concerned with numbers of citations on a spreadsheet, but his dedication to the resource drives Storm to put forth every effort to solve each case. On more than one occasion, Storm worked through the night to locate a muzzleloader slug or bullet fragment, gathering DNA or other evidence in order to make a case against poachers. Officer Usrey has also established excellent relationships with Navajo Nation Game and Fish Officers and Pueblo of Zuni Law Enforcement over the years for the benefit of all wildlife.
The recognition was presented by Department of Game and Fish Col. Robert Griego, a 2006 recipient of the award.
"It was an honor to hire Storm as a conservation officer 13 years ago. His well-rounded abilities, work ethic and his initiative to go the extra mile make him an exemplary officer," said Griego. "Storm is the type of officer that can write someone a citation and have them shaking his hand at the end of the contact."
Shikar Safari Club International is a conservation-based international organization that presents awards annually to wildlife law enforcement officers in all states, provinces and territories in the United States and Canada. Corporal Storm Usrey is one of only 12 officers currently serving New Mexico to receive this honor and is the 50th officer to receive this prestigious award. The Shikar-Safari award was first presented in 1968.
###