New Mexico Department of Game and Fish
Public contact, Information Center: (888) 248-6866
Media contact: Karl Moffatt: (505) 476-8007
karl.moffatt@state.nm.us
FOR IMMEDIATE RELEASE, June 30, 2016:
Game wardens save family stranded on island at Abiquiu Lake
ABIQUIU – New Mexico Department of Game and Fish officers rescued a Santa Fe family of six left stranded on an island at Abiquiu Lake after their boat swamped during an outing Tuesday.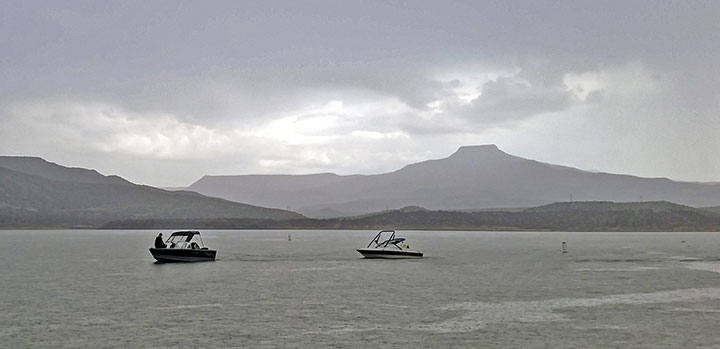 The two adults and four children were saved after New Mexico State Police radio dispatch received a distress call by cellphone from the family that evening. The department's game warden stationed in Espanola, Wyatt Harwell, responded to the call with his powerboat and two other officers. The officers found the stranded family and loaded them onboard. They also drained the family's boat and towed it back to the boat ramp.
"The parents did a great job of getting the kids to a safe spot when they realized the boat was taking on water," said Harwell. "Thanks to some quick thinking by the parents, this event resulted in a positive outcome, instead of a tragic incident."
Department officers stationed in districts with lakes often respond to these kinds of cases as part of their Conservation Officer duties. For more information about the department visit our website at www.wildlife.state.nm.us.
###