New Mexico Department of Game and Fish
Public contact, Information Center: (888) 248-6866
Media contact: Dan Williams: (505) 476-8004
Dan.Williams@state.nm.us
FOR IMMEDIATE RELEASE, Aug. 11, 2017:
Hooked on Fishing derby lots of fun
HOBBS
– The fifth annual Hooked on Fishing derby at Harry McAdams Park Pond in Hobbs Aug. 5 drew 175 children and their families and resulted in a 27-inch, 6.5-pound catfish being caught. Over 100 catfish, sunfish and largemouth bass were caught during the first hour of the event sponsored by the city of Hobbs and the New Mexico Department of Game and Fish.
All registered anglers received a prize for participating. Free hotdogs, chips and cold water were provided. Guests also practiced shooting on portable archery and pellet gun ranges and were given a chance to improve their skills with coaching from department game wardens.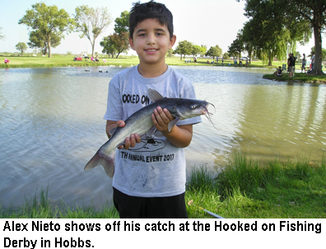 Event organizers reported good public response to the annual event.
"One single mom told us she's been coming for years and really enjoys the valuable time she gets to spend with her son," said Andrew Jolliff, a department game warden stationed in Hobbs.
For more information about fishing in New Mexico please visit the department's website, www.widlife.state.nm.us.
###